DADO TRUNKING
Pluggable even on the last meter
FLEXIBLE power supply
Cable trays demonstrate their strengths anywhere where flexibility is required. Our gesis® NRG 5G2.5/4 mm² flat cables create space. The result is an energy-saving solution, which is easy to install, for three-phase power supply up to just before the socket. Thanks to different cable colors, it is easier to distinguish between networks (NN/IT or general/emergency). The 3-pole, pluggable taps with free phase selection also allow flexible load sharing. Anyone who uses jumpering channel sockets from our system partners can execute the entire jumpering channel installation in a pluggable manner. Alternatively, the installation can also be carried out with appropriate round cable components.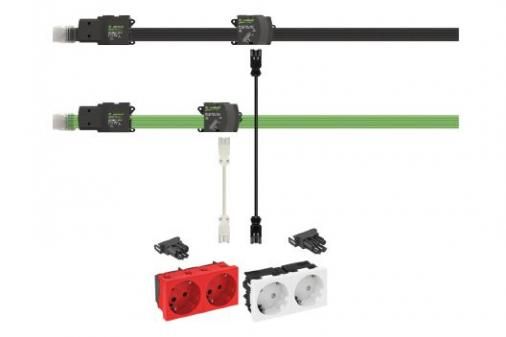 your advantages
Easy & safe installation
Installed quickly and easily: With plug & play the cables do not have to be cut, bared, stripped, or clamped. Thanks to easy plugging, we enable quick and safe installation.
Saving energy
Save energy and reduce the voltage drop with three-phase power supply to the field.
Flexible
With the use of gesis®  Components, sockets can be moved or added – at any time and without any effort.