ROOM AUTOMATION OF THE FUTURE - COMPACT, MODULAR, PLUGGABLE
gesis® FLEX
With its pluggable electrical connections, modularity, and decentralized installation, this device series brings industrial production and workmanship quality to the construction site. The most professional, simplest, safest, and fastest installation method for smart building on the market.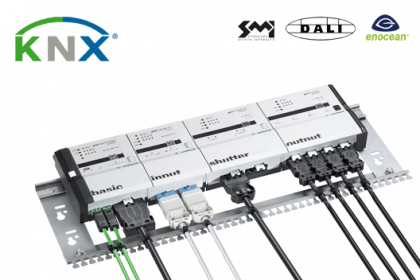 GESIS® FLEX - DECENTRALIZED KNX ROOM AUTOMATION
The modular KNX device series gesis® FLEX has been conceived for decentralized installation outside distributors. A device always consists of a base module and up to six extension modules. The modules can control lighting, blinds, and heaters or integrate potential-free contacts into the building automation setup with binary inputs.

With its flat design, one-sided connection, well-thought-out mounting options, and modular extendability, this system fits into almost any installation space. The exclusively pluggable connections enable fast, safe, and easy connection. The mains feed and internal bus are connected automatically when modules are added. The insertion of a feed module enables separate fuse protection for various functions.

Operation on the module itself makes commissioning and troubleshooting easier. In combination with pluggability, a clear interface is created between system integration and installation. Due to the system's modularity, changes during the planning, execution, or operating phase can be implemented quickly.