TERMINAL BLOCKS
3 product families,
3 connection technologies,
always the best connections.
THE BEST INVENTION FOR YOUR CONNECTION: THE TERMINAL BLOCK.
TERMINAL BLOCKS WITH A SYSTEM FROM WIELAND
Wieland terminal blocks with screw, tension clamp or push-in connection ensure that switch and distribution cabinets are always tidy. They guarantee straightforward, fast and reliable wiring and offer numerous advantages:
Flexible: A broad, coordinated portfolio of 3 product families with freely selectable connection technologies offers the right solution for every application.
Efficient: Plan terminal strips and order components for your project simply at the push of a button.
Time-saving: Simply unpack and install pre-assembled terminal strips – done!
Traceable: Consistent labeling system provides a clear overview.
Uniform: 3 connection technologies, 1 accessory.
Reliable: Tested industrial quality in European market standard.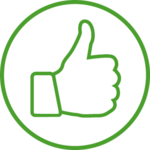 TERMINAL BLOCK:
AREAS OF APPLICATION
Wieland terminal blocks are always the right choice in the control cabinet. Depending on the application, terminal blocks with screw, tension clamp and push-in connection are available in different versions.
Numerous companies in mechanical and plant engineering, power engineering and building services/building installation rely on the proven system solution with Wieland terminal blocks – structured, clearly arranged and expandable at any time.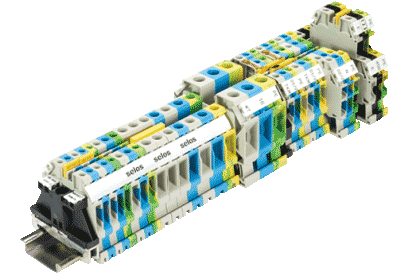 SELOS TERMINAL BLOCKS WITH MAINTENANCE-FREE SCREW CONNECTION SAFE, PROVEN AND STRESS-FREE:
Easy connection with or without wire end ferrule, multi-conductor connection possible. Elastic, stable clamp body with one-piece thread for stress-free connection and reconnection.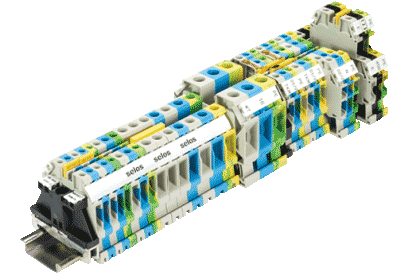 Simple, fast, reliable: the selos screw connection.
Insert the conductor you want to connect into the clamping element.
Tighten the screw.
Done.
The steel clamping element is flexible and designed so that the contact pressure of the conductor on the busbar remains permanently high. With the tinned copper bus, the voltage drop is minimal. Clamp by clamp, selos creates a maintenance-free connection system – for all conductors with a nominal cross-section of 0.14 mm² to 300 mm².
FASIS WKFN MODULAR TERMINAL BLOCKS WITH MAINTENANCE-FREE TENSION CLAMP CONNECTION SAVE TIME AND COST:
fasis WKFN modular terminal blocks with maintenance-free tension clamp connection for vibration-proof terminal connections with high contact force.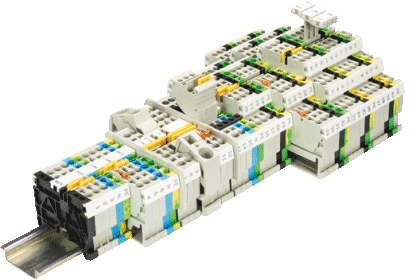 Connect fine-stranded, flexible conductors easily with fasis WKFN:
Insert a standard screwdriver to open the spring.
Slide in the conductor.
Remove screwdriver, done.
Perfect technology: steel tension springs and a copper conductor rail ensure a secure hold and stable connections. Due to the self-locking effect of the bent contact spring, the wire is pressed firmly against the spring – it is vibration-proof and can be quickly released again, for conductors with a nominal cross-section of 0.08 mm² to 10 mm².
FASIS WTP TERMINAL BLOCKS WITH PUSH-IN CONNECTION CAN BE CONNECTED WITHOUT TOOLS, ENABLE SPACE-SAVING WIRING:
fasis WTP terminal blocks with push-in connection save time and space in the control cabinet and in the warehouse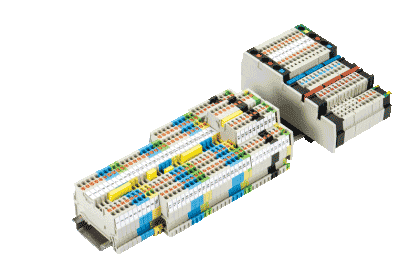 Thanks to push-in connection technology, the conductors can be connected directly without tools. Particularly space-saving with a high packing density and the signal wiring on only 3.5 mm construction width.
Press single strands and fine wires with ferrules into the contact point.
Done.
The conductor is pushed between the spring and the busbar. The pressure spring ensures uniform contact pressure and a vibration-proof, maintenance-free connection. Conductors with 2.5 and 4 mm² as well as 6 and 10 mm² nominal cross-sections can be combined in one terminal block. To release the conductor, simply operate the integrated release lever with a screwdriver and remove the conductor.
Error excluded: It is not possible to interchange the conductor and screwdriver entry and thus contact with live parts is excluded.
SYSTEM-WIDE UNIFORM BRIDGING SYSTEM
Perfect technology down to the last detail:
We have developed a bridging system that is extremely robust and individually adaptable for bridging screw, tension clamp or push-in terminal blocks. A CU busbar guarantees low contact resistance, a steel spring ensures long-term stability and vibration resistance. You can simply unclip the poles to mark the current path.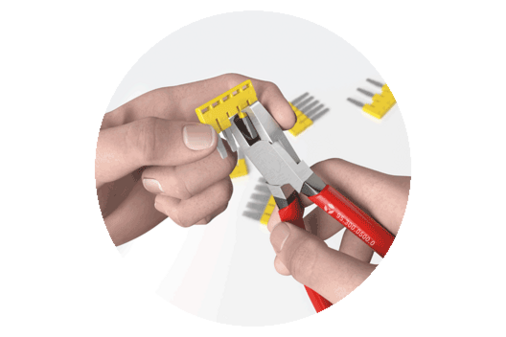 141 signs per minute
Marking materials for terminal blocks, wires, cables, devices or pushbuttons can be labeled with the reliable wieprint thermal transfer printer system. The thermal transfer printer can be used with all common labeling systems and also functions as a stand-alone solution thanks to its integrated LCD display. With high-quality and durable thermal transfer printing, up to 8,500 labels per hour can be printed, with magazine even in automatic mode.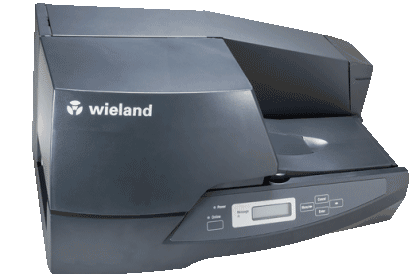 Yes, wieplot!
The powerful wieplot and wieplot BASIC plotter systems are easy to use and provide visual control of your markings. In addition to marking labels for terminal blocks, you can also use it to mark labels, stickers and cable markings professionally and cleanly. The optional engraving unit expands wieplot into an engraving system and enables permanent and reliable engraving of multilayer plastic plates.
Intuition instead of training:
The intuitive labeling software wiemarc enables direct graphical display of the labeling plates, can create customer-specific layouts and offers a nimble data import from CAD, Excel, text or wieplan as well as a plausibility check. In short: wiemarc simplifies and accelerates project planning enormously – see for yourself!
Why do you need terminal blocks?
Terminal blocks are electromechanical components used in control cabinets or circuit distributors to connect wires, cores and cables in a detachable and safe way. When connected, they distribute current or electrical signals within the control cabinet via a conductor.
How are terminal blocks used?
Terminal blocks are mounted side by side on top-hat rails and installed in the control cabinet. Incoming and outgoing lines from other electrical components or devices are connected to the terminals of the terminal blocks and thus integrated into a complex overall system. The essential task of terminal blocks in electrical engineering is to connect electrical lines and, e.g. control or monitor building installations, power engineering, machinery and equipment.
What kind of terminal blocks are there?
Terminal blocks are used to connect wires at junctions of circuits and control circuits in power distribution or signal distribution of sensors and actuators. The terminals are usually used in control cabinets, where they are mounted on terminal or DIN rail strips. There are different types:
Terminal blocks with small nominal cross-section (1.5 mm² and 2.5 mm²), primarily used for signal distribution from sensors.
Terminal blocks with nominal cross-section of 4 mm² or 6 mm²; they are mostly used as terminals for actuators such as pneumo cylinders, electric motors, etc.
Terminal blocks with a nominal cross-section of 10 mm² and more are often used for power distribution with higher voltage levels.
When are terminal blocks mandatory?
In principle, there is no generally applicable legal obligation to use terminal blocks in Germany. However, there are exceptions for special applications – such as the installation of electrical systems in fire-hazardous premises. According to DIN VDE 0105-100/A1, electrical systems must be tested repeatedly. An essential test aspect is the so-called insulation measurement, e.g. between neutral and protective conductor. For this measurement it is necessary to disconnect the neutral conductor of each circuit. For this reason, DIN VDE 0100-718 and VdS 2033 require the use of N-disconnect terminal blocks in public facilities, commercial or industrial workplaces and fire-hazardous operating areas.
How many terminal blocks fit on a DIN rail?
The maximum number of terminal blocks you can place on a DIN rail depends on the terminal type, connection technology and cable cross-section. In practice, it is often not at all useful or necessary to exhaust the theoretically possible maximum number of terminal blocks on a terminal strip. It is better to have a structured design with sufficient free space. This makes installation and modification, maintenance and inspection the easiest, and the overview in the control cabinet is maintained.