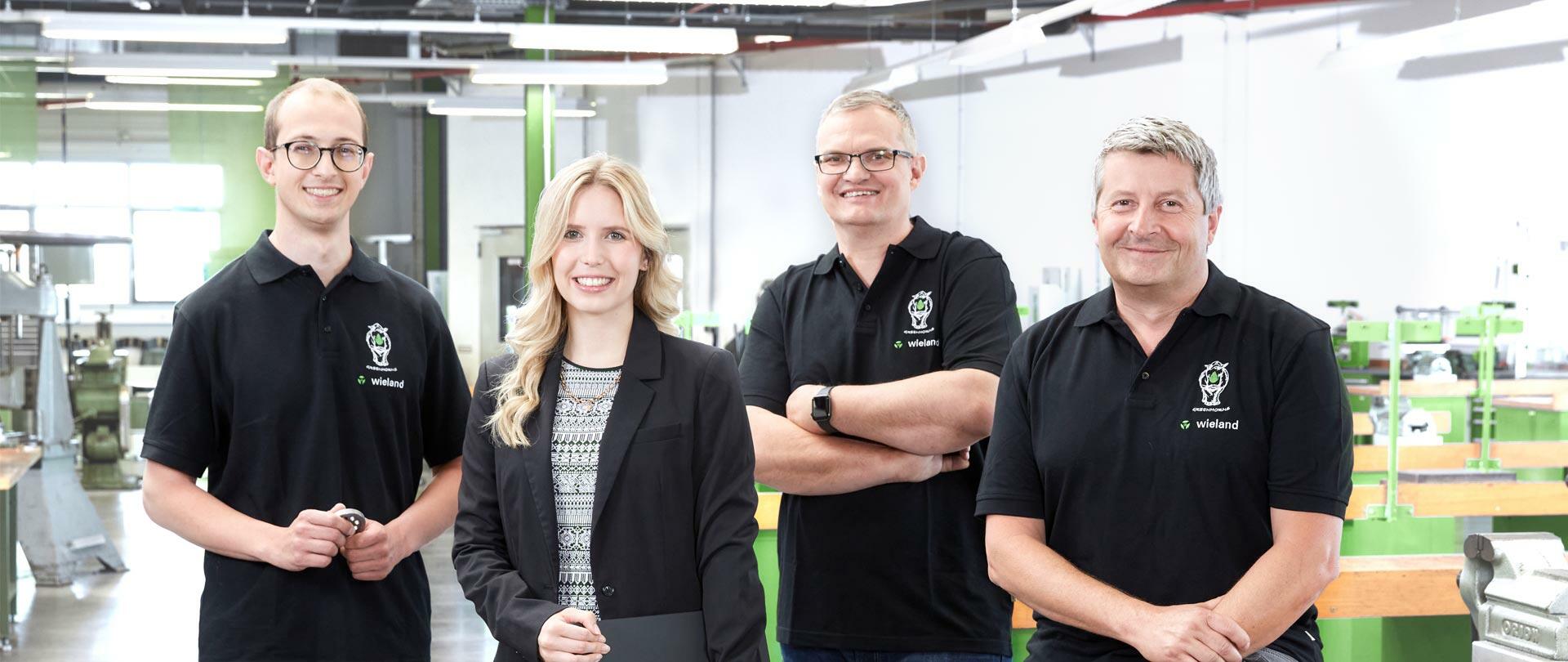 PUPILS
Working at Wieland - A link to the future
WITH US YOU CAN BECOME EYERYTHING - ESPECIALLY VERY GOOD
Wieland forges connections. Not just electrical connections, but also and especially connections between people and between theory and practice. This is why the focus of our training is on plenty of practical relevance, variety, and obviously qualified trainers. They have considerable know-how and take pleasure in imparting this knowledge. This enables us to ensure that during your apprenticeship you will receive the tools you need to embark on a dynamic and global career – ideally with us.
what awaits you
What can you expect from us as a training enterprise and an employer? A whole lot. As a company with a rich tradition, we have been training apprentices for over 100 years and know just what this takes. For this reason, our apprenticeships focus not only on actual content but also on the following elements and values: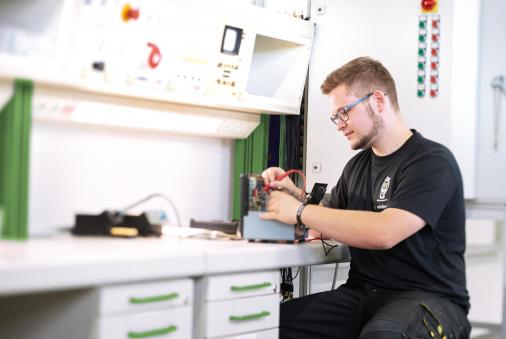 Team spirit
We achieve more together than we do alone. That is why we place great value on teamwork. Cooperation between colleagues and mutual support result in a relaxed atmosphere conducive to your learning and development.
Support
Throughout your apprenticeship, you will have an experienced team by your side. Our trainers will provide you with individual guidance and encouragement. You will have access to the very latest technology and methods in our modern training center. In study groups and workshops for exam preparation you will be able to consolidate what you have learned and have discussions with your fellow apprentices.
Variety
Wieland is a company that is involved in many areas. So, during your apprenticeship you will be familiarized with a whole range of trades and will experience a variety of daily work routines. Once you have acquired your initial technical knowledge in the Wieland training center, you will get the chance as an apprentice to help develop ideas and to convert these into real pieces of work. You will work on actual customer orders, thereby gradually gaining important practical experience. To enable you to take a broader view, you will also benefit from internships outside the company as well as visits to other Wieland locations abroad.
Prospects
As a family business with a tradition that goes back many years, we are a reliable employer. We will guide you on your way and offer you numerous development opportunities. Anyone who joins in with us is encouraged. This applies both during and after an apprenticeship. For example, after you pass your final examination you will be able to continue your training to become an engineer or master craftsman or you can study for your bachelor's or master's degree alongside your work.
OUR APPRENTICESHIP TRADES AT A GLANCE
Toolmaker (m/f/d)
Duration of apprenticeship: 3.5 years
During your apprenticeship to become a toolmaker you will be familiarized with all areas intensively and will become qualified to work in a range of fields. A careful and orderly approach to work is vital in order to make tools and molds for industrial production with high precision (a few thousandths of a millimeter). For this reason, care and orderliness are as much a part of the profession of toolmaker as manual dexterity. After all, an aptitude for work and technology is very important in parts manufacture as well as in tool assembly.
Industrial Mechanic (m/f/d)
Duration of apprenticeship: 3.5 years
Whether grinding, milling, or filing – during your apprenticeship you will learn all the techniques of metalworking.
As an industrial mechanic, you will be a specialist in large machinery and plants. If damage to a production plant brings the entire manufacturing process to a halt, you will be called in. You must find the fault, repair or modify defective parts, and then get the plant operational again.
Process Engineer (m/f/d)
Duration of apprenticeship: 3 years
During your apprenticeship to become a process engineer, you will learn how to record measurements such as temperature, pressure, or mass as well as how to prepare and commission machinery. The training will also include selecting the right materials and weighing them out into the corresponding portions, as well as the final checks on the quality of the results after every step. You will combine practical work on real Wieland orders with theoretical learning at the vocational school.
Machine and Plant Operator (m/f/d)
Duration of apprenticeship: 2 years
As a machine and plant operator, you will make sure that these run reliably without any faults at all times. This is important as these days more and more processes are automated and handled by machines. What you particularly need for the apprenticeship to become a machine and plant operator is an interest in technology and machinery. Do you enjoy dealing with technical intricacies? If so, you are in the right place.
Surface Coater (m/f/d)
Duration of apprenticeship: 3 years
A surface coater, previously known as an electroplater, uses various techniques to make sure that workpieces keep going and remain functional for a long time. So, electroplating boasts not only shiny products, but also and especially gleaming (career) prospects. This is because surface coaters are in high demand these days.
Electronics Engineer (m/f/d)
Duration of apprenticeship: 3 years
The more technology is installed, the more likely it is that there will be malfunctions from time to time. This situation calls for the electronics engineer. He or she must make sure that plants run without any faults. How? By installing, maintaining, and, if necessary, repairing the operating technology in electrical operating, production, and control equipment. Other fields include energy supply plants as well as communications and lighting technology.
Technical Product Designer (m/f/d)
Duration of apprenticeship: 3 years
As you know, plants and machinery do not just fall from the sky. They are actually built. And before this happens, they have to be designed. As a technical product designer this is your job. It is important to remember that the plants will need to perform all the functions for which they are intended. For this reason, you will have modern tools to hand, such as 3D CAD (Computer Aided Design) programs, which you will use to design the products on a PC. You will also select materials and production techniques, and keep an eye on the costs and technical requirements. You will then use simulations and tests to check whether your designs are usable in practice.
Dual "Bachelor of Engineering" study program (m/f/d)
Duration: approx. 3 years
Starting in 2020, we will be offering a dual study course in electrical engineering. This program combines a traditional Chamber of Commerce apprenticeship trade with a corresponding bachelor's degree at a university. After graduating, you will become an electronics engineer with the title of Bachelor of Engineering. To enroll for this dual study course you must have obtained the entrance qualification for a university of applied sciences or a traditional university, with good grades in mathematics and physics. You must have a good working knowledge of English and a passion for technology and electronics. In return, we will offer you exciting tasks, such as the development and design of electromechanical/electronic components. You will also be involved in advising customers. Throughout your apprenticeship and beyond we will support you with targeted training measures and personalized exam preparations.
YOUR WAY - FROM APPLICATION TO AN APPRENTICESHIP
The application process for pupils
1. Application (preferably in PDF format)
Customized covering letter
Résumé in table format
Copies of the last 2 certificates
Details of practical experience (e.g. internships, periods abroad, social engagement)
Email to: ausbildung@wieland-electric.com
2. Acknowledgment of receipt
3. Checking of your documents
4. Invitation to a test
5. Personal interview
6. Acceptance
7. Start of apprenticeship