INSTALLATION COLUMN
Room installation and automation housed attractively.
CENTRAL ACCESS POINT FOR ALL ROOM FUNCTIONS
It is important to move with the times. This applies in particular to digitization in the education sector. The gesis® installation column is the link for the electrical installation and the solution to all your modern class room automation needs.
In the future, all room and digital functions will be realized per room or classroom with only one column as an access point. The column offers the necessary installation space for automation devices ranging from simple light and blind control to efficient room temperature control, air quality and CO2 measurement. The decentralized nature saves space and additional installation effort. In combination with our pluggable installation, a fast and error-free installation - is created. Rely on the gesis® system from the world market leader for pluggable electrical installations.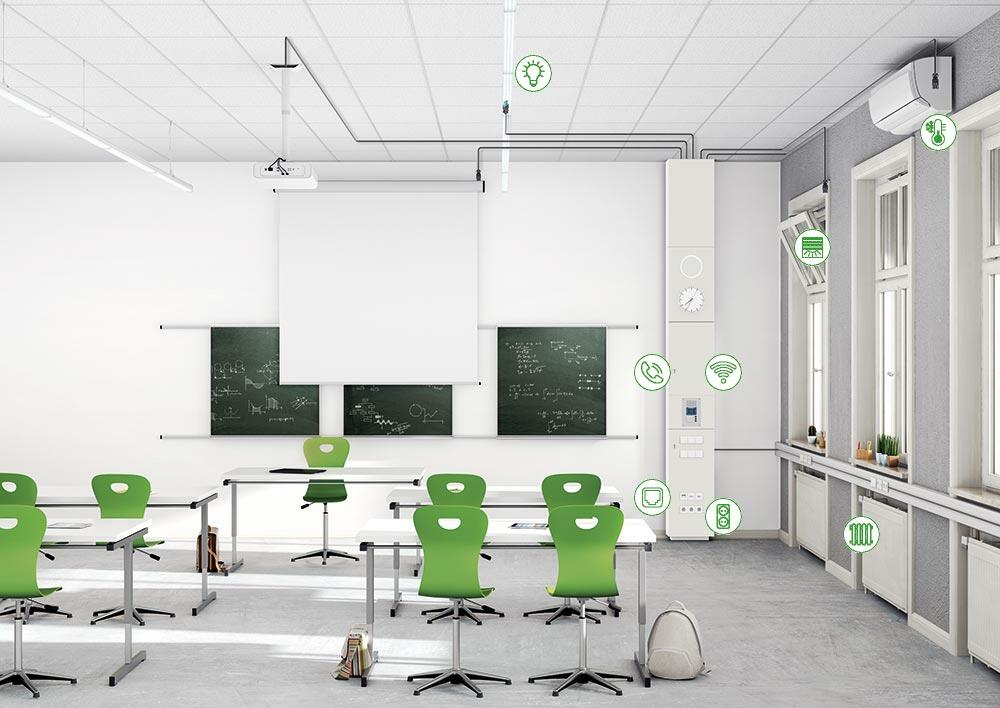 Distribution panel
: accommodation of decentralized distribution and room automation devices.
Fixtures:
Cut-outs for on-site installations e.g. loudspeaker and / or clock
Installation room
for example: automation devices such as gesis® FLEX, network technology or the like
Media connections:
(e.g. switches sockets multimedia)
Fixed front / telephone compartment
: accommodation of e.g. flush-mounted intercoms, alarm systems, telephone or the like
COMPARISON: BASIC VERSUS COMFORT
BASIC

(FLUSH MOUNTED)

BASIC

(SURFACE MOUNTED)

COMFORT

Installation type

Surface mounted
➖
✔
✔
Flush mounted (fully or partially recessed)
✔
➖
➖

Operating concept

Elements placed on the front and in the phone compartment accessible to
User
User
User
Open doors, e.g. to access the operation of the protective/switching devices
Instructed person (caretaker)
Instructed person (caretaker)
Instructed person (caretaker)
Open doors and remove the covers, e.g. to access the operation of the protective/switching devices and the installation level
Specialist
Specialist
Specialist
Swing the entire column up and open the installation level
➖
➖
Specialist

Equipment

Dimensions (W x D x H)
450 x 215 x 2580 – 3460* mm
3 combinable column heights
✔
✔
✔
Height-variable
➖
✔
✔
Room height compensation
➖
Integrated
Integrated
Distribution unit panel with 18 pitch units per row max. 5 rows for operable protection/switching devices
5-row
5-row
5 to 7-row
Distribution panel with flange plate for pluggable installation
✔
✔
✔
Optional lockable door in lower section, e.g. media connections, additional sockets, etc.
➖
➖
✔
Standard colors: white pearl or white matt
✔
✔
✔
Customizable decor
➖
➖
✔
* Height from 2580 to 3460 mm depending on variant
ROOM AUTOMATION WITH THE GESIS® PLUG & PLAY INSTALLATION.
New energy concepts for public buildings are in demand. Anyone who wants to make energy-efficient and digital educational buildings a reality must adopt the right course now.

Legislators and developer are rightly demanding that planners and operators of new buildings and retrofit measures significantly increase the energy efficiency of buildings, with the effect of achieving climate targets and saving costs and resources at the same time.The transition to smart buildings requires flexible, communications-capable systems and products. Public buildings in particular, such as schools, hospitals, or administration buildings, have to be renovated and brought up to date technologically on a regular basis.

Short timescales and tight completion schedules are often a problem for electrical installers on site.

With our gesis® installation column, building owners and operators can rely on well-prepared, quick, safe, documented, and, above all, error-free installation and room automation according to the plug & play principle – easy to handle and maintain, and flexible to accommodate future changes to the building.
FROM IDEA TO PROJECT.
What does a building installation using our products mean for you as a planner? What will change in the installation and in the process for you as a contractor?
1. Idea
Innovative solutions are required for innovative building planning/digitization! DECENTRAL and PLUGGABLE are the keywords. For presentation to building owners or decision makers, we will gladly create a concept for you.
AS A PLANNER, PAY ATTENTION TO THE FOLLOWING BASIC CONSIDERATIONS:
What functions are to be integrated?
What electronics are to be used?
Which room units will be controlled?
What construction space is available or will be needed?
Will the plant installation be pluggable?
2. Contact us!
We will be happy to advise you and to work with you from the conceptual design stage to the concrete planning and costing, and right through to the invitation to tender.
THE GOAL IS TO SPECIFY AND DEFINE THE INSTALLATION COLUMN:
Define electronics and fixtures
Distributor size/materials
Optimize quantity structures
A reset, e.g. of Determine any necessary accessories, such as connectors or cable assemblies.
3. Inviting tenders and tendering
We will support you in all matters relating to the invitation to tender.
AS A PLANNER
You receive a cost estimate from us
We draw up the tender texts together (neutrally as well)
You invite tenders for the installation column and accessories
We handle the queries from installers
AS THE CONTRACTOR.
You will receive the tender documents from the planner
A tender is requested from Wieland Electric in line with the invitation to tender
More precise specifications may be necessary based on the invitation to tender
As the installation columns are customized, a net tender is produced
You produce the cost calculation
4. Execution + order
We deliver the installation column to the required address on schedule and order-ready, together with other components.
AS A PLANNER
The contractor orders the necessary components:
Wieland project manager is appointed
Layout plan and EPLAN are created
Final approval by the contractor's signature
The installation columns are manufactured and individually tested in accordance with applicable standards and guidelines
Handover of documents and plans to the contractor
AS THE CONTRACTOR.
After the contract has been awarded, you order the installation columns:
Wieland project manager is appointed
Layout and wiring are agreed, and optimizations are targeted based on the actual conditions
Delivery and logistics are discussed
Drawings are produced by Wieland Electric
Client gives go-ahead for production, any sampling as applicable
Production at Wieland Electric in line with the agreements
5. Further services