TEMPORARY ELECTRICAL INSTALLATION
WIV DISTRIBUTION BOXES
Installation distribution boxes as a mobile solution for exhibition stand construction as well as light and event technology.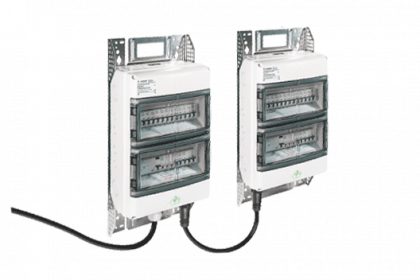 WIV DISTRIBUTION BOXES MAXIMUM FLEXIBILITY + MOBILITY.
Maximum flexibility + mobility: With our pluggable WIV exhibition distribution boxes you are well placed to benefit from a faultless operation in changing locations. Materials and components of proven quality ensure quick and smooth connections and safe supply on site.
Unable to find a suitable power distributor in our portfolio?
We will be happy to configure your distributor on request!
APPLICATIONS OF MOBILE POWER DISTRIBUTORS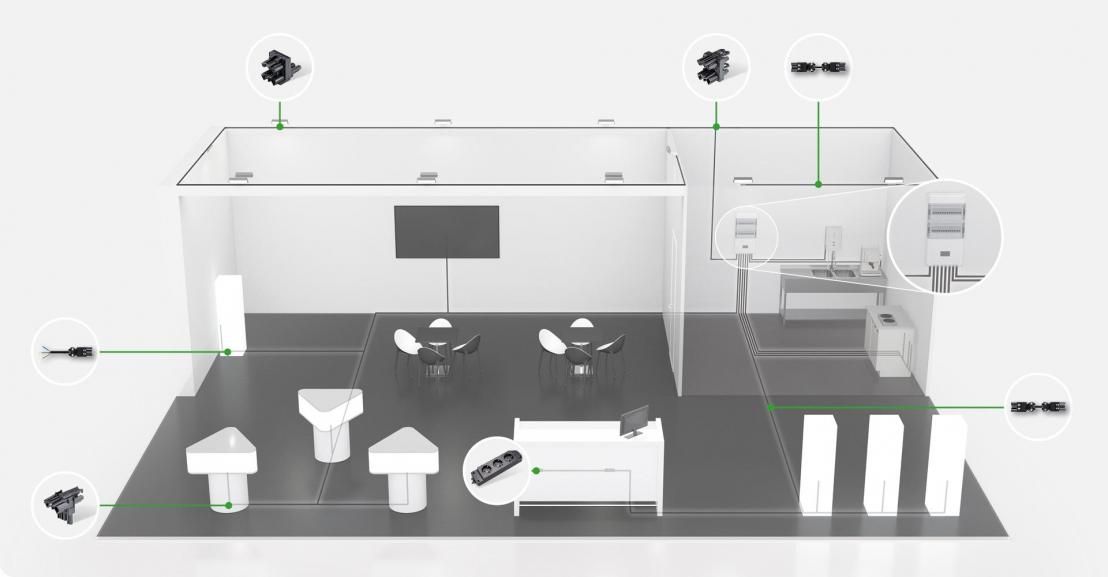 gesis® CLASSIC
h-distributor, 3-pole,
1 input, 2 outputsgesis® CLASSIC
H-distributor, 3-pole,
1 input, 3 outputsgesis® CLASSIC extension cable
3G1.5 mm2 or
3G2.5 mm2WIV exhibition distributorgesis® CLASSIC extension cable
3G1.5 mm2 or
3G2.5 mm2gesis®
cascadable multiple socketgesis® CLASSIC
T-distributor, 3-pole,
1 input, 2 outputsgesis® CLASSIC connection cable
3G1.5 mm2 or
3G2.5 mm2
WIV DISTRIBUTION BOXES FAST, FLEXIBLE & PLUGGABLE
The distribution boxes are available with various connector systems, with gesis® MINI and gesis® CLASSIC being the ones for dry indoor areas. They also have safety sockets. If higher IP protection ratings are required, the RST® versions are used. The residual current and miniature circuit breakers and the master switches are all harmonized. The cabling for the exhibition stand is done with the above-mentioned systems. Various cable types, cross sections, and lengths as well as other components, such as distribution blocks, can be used.
The distribution boxes are constructed according to IEC 61439.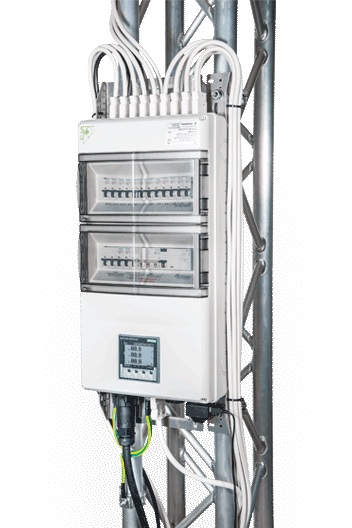 CONNECTOR SYSTEMS
Various installation connector systems are used for the inputs/outputs, in accordance with IEC 61535. Which of these systems is best for you will be influenced by external circumstances. We will be happy to advise you.
gesis® MINI: For applications with little installation space available, gesis® MINI is the best choice.
gesis® CLASSIC: The established standard system for the last 40 years offers a wide range of accessories.
RST® CLASSIC: This is used where increased IP protection is required.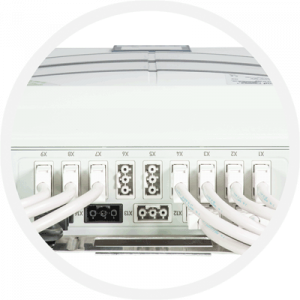 IP PROTECTION
A lower protection class is generally adequate for dry interiors. If exposure to water needs to be considered, a higher protection class will be necessary. The cables and connectors must also meet the requirements.
Distribution boxes with RST® outlets
The RST® System covers all protection classes from IP54 to IP69.
The distributor must be protected against water (e.g. rain) from above.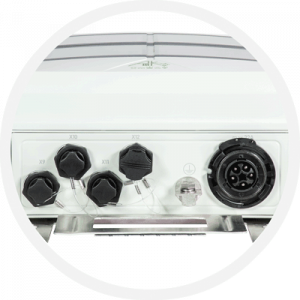 COUNTER
The counter is used primarily to measure consumption. As all outer conductors can be recorded separately, it is possible to achieve a symmetrical load distribution.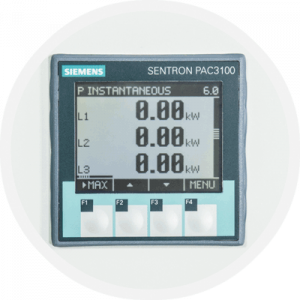 MOUNTING
It is very easy to mount the distributor thanks to the robust and well-thought-out mounting bracket, even in confined installation conditions.
Various punched holes in the rear panel
Carrying handle integrated into the rear panel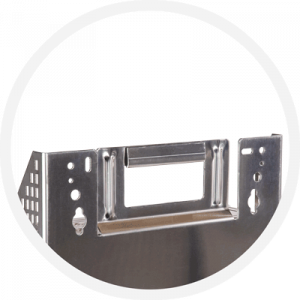 PROTECTIVE/SWITCHING DEVICES
Maximum safety is important to us! That is why the protective/switching devices used are harmonized and of the highest quality.
Master switch
Residual current circuit breaker
Miniature circuit breaker
Protected by transparent cover
Cover for opening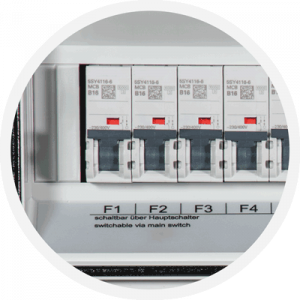 THE ADVANTAGES OF OUR DISTRIBUTION BOXES
Quick assembly/dismantling
Safe connections
Reusability of all components
Robust distributor
Easy handling of distribution boxes and of the entire system
1. QUICK COMMISSIONING
Depending on energy requirements, either a 20 kVA or a 40 kVA version is available. Energy is distributed and made available via Wieland's connector systems. If other connections are needed per circuit, these are very easy to realize with our distribution blocks.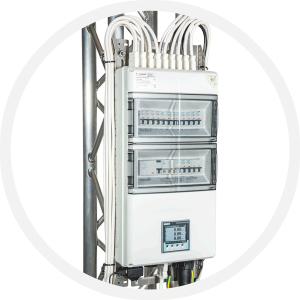 2. FLEXIBLE ADAPTATION
Depending on energy requirements, either a 20 kVA or a 40 kVA version is available. Energy is distributed and made available via Wieland's connector systems. If other connections are needed per circuit, these are very easy to realize with our distribution blocks.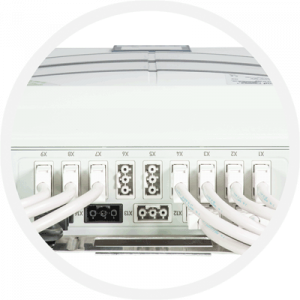 3. RECORDING OF ELECTRICAL DATA
Our distribution boxes can also be supplied with a multifunction meter for simple determination of electrical data, from the recording of electricity consumption to the logging of energy consumption.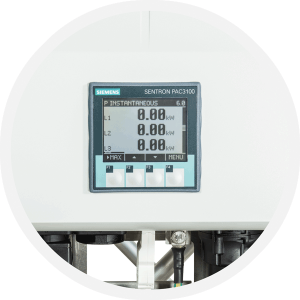 4. SIMPLE PLANNING + IMPLEMENTATION
All that is required for system planning purposes is to determine the number of outlets and to define the desired connector system (gesis® MINI, gesis® CLASSIC, RST® CLASSIC).
All accessories can be found in our Shop!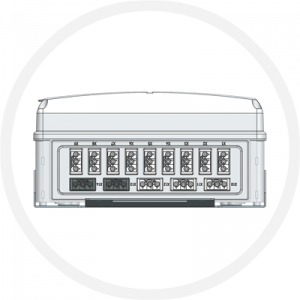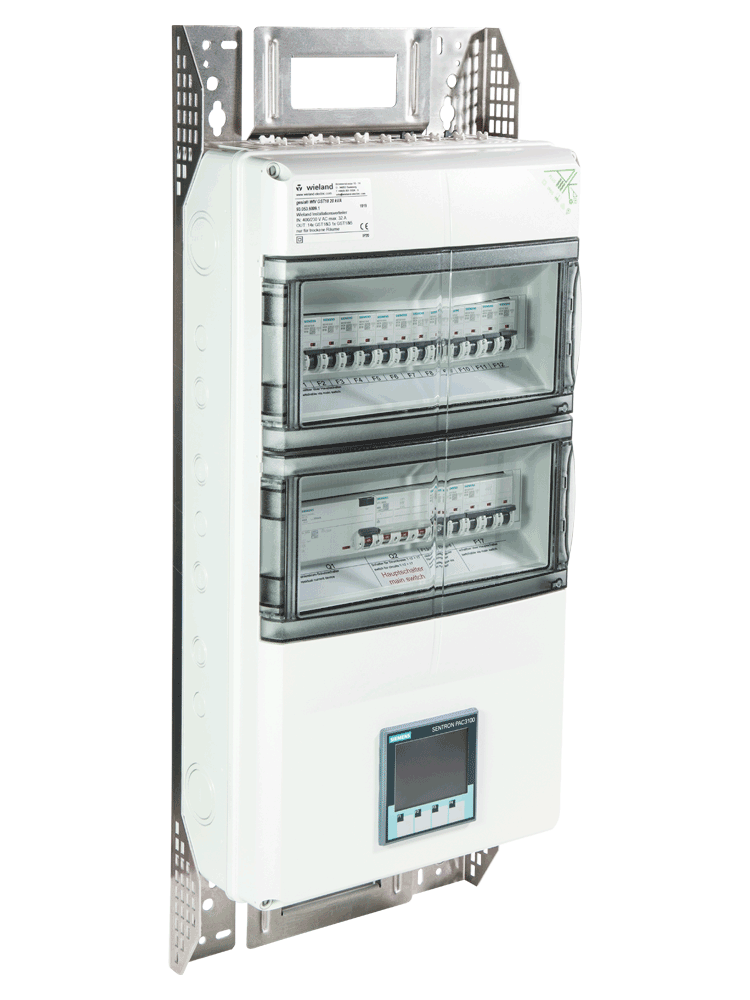 Various mounting options
Test cycles can be extended, if applicable, thanks to the pluggable system.
Outlets with connector system for:
•

gesis

® MINI
• gesis® CLASSIC
•

RST

®

CLASSIC
Fastening option for strain relief for outgoing cables
Exterior earthing connection M8
Connections for: infeed, safety plug, potential equalization, and three-phase current
Measuring device for over 30 electrical measurements
Depending on the model, equipped with
• Residual current circuit breaker
• Miniature circuit breaker
• Master switch
2 or 3-row distribution panel
Outlets in black for continuous current
Transparent cover for opening
TECHNICAL DATA
gesis® CLASSIC (GST18®)

gesis® MINI (GST15)

RST® CLASSIC
(RST20)

DESIGNATIONS

20 kVA

40 kVA

20 kVA

40 kVA

20 kVA

40 kVA

Measuring device
optional
optional
optional
optional
optional
optional
Connected load
20 kVA
40 kVA***
20 kVA
40 kVA***
20 kVA
40 kVA***
Max. pre-fuse
32 A
63 A
32 A
63 A
32 A
63 A
Pluggable with
RST50
CEE 63 A
RST50
CEE 63 A
RST50
CEE 63 A
Connection cable length
3 m**
3 m
3 m**
3 m*
3 m**
3 m*
Housing material
Robust polycarbonate
Housing color
Electric gray
Switchgear and controlgear assemblies
IEC 61439
Ambient conditions
For dry rooms only
For protected outdoor areas
Protection class
- without mating connector
- with mating connector

IP20
IP40

IP20
IP44
Mounting method
Wall mounting
Circuit diagram
Included in delivery
Parts list and dimensional drawing
Upon request
* Cable is laid in the distributor
** CEE 32 A connection cable to RST® POWER is included in the scope of delivery
*** 20 kVA direct outlets + 20 kVA fused outlet for a 20 kVA distributor
How can I obtain a temporary installation distributor?
You will find a variety of models in our Shop or brochure.
If you cannot find the installation distributor you need here, contact us – we will be happy to configure your distributor on request.
Which distributor do I need for outdoor applications?
For protected outdoor areas choose the RST® installation distributor. This offers the required IP protection (CEE plug IP44 / RST IP65).
What connection options do I have with the installation distributors?
All our installation distributors can be plugged into Wieland's gesis® or RST® systems.

Connections pluggable with cable assemblies (Wieland)

All connectors can be plugged in without using tools.
Dangerous mismating issues are ruled out thanks to color and mechanical coding of the connector systems.

Connections pluggable with self-assembled connectors (Wieland)

CEE-connection
Use of the 40 kVA distributor
To make full use of 40 kVA, both a 40 kVA and a 20 kVA installation distributor is required. Routing and symmetrical load distribution to both installation distributors will provide you with the full 40 kVA. As a result, you can supply 20 kVA to each of the two installation distributors, spatially separated on one exhibition stand or, as required, even on two exhibition stands.You can also operate the 40 kVA installation distributor on a stand-alone basis with an appropriate adapter on a 20 kVA connection.
Is there a 16 A CEE socket on the installation distributor?
No, the installation distributor does not come with a fitted 16 A CEE socket. Thanks to the integrated GST18i5 connection, you can connect a GST18i5 adapter cable to a 16 A CEE socket (article no. 99.410.0000.1) to supply your consumers.
Which types of outputs does the installation distributor have?
It has switchable (white connectors) and non-switchable (black connectors) outputs.
The switchable outputs can be disconnected via the master switch if required (e.g. at night). The miniature circuit breakers (MCBs) are not for switching the outputs.
For consumers that must be operated continuously (e.g. refrigerator), there are the non-switchable outputs (black connectors).
Is there an earthing connection available for earthing metal parts of the exhibition stand?
Yes, there is a connection point accessible from outside which is equipped with an M8 hex bolt. This is connected to the PE potential of the supply cable.
What mounting requirements exist?
Mount the installation distributor vertically.
Use suitable mounting material.
Mount on a non-combustible surface.
Do not encase/cover installation distributors, and ensure sufficient ventilation:
Distance of approx. 30 cm down/up to the next surface
Distance of approx. 5 cm left/right to the next surface
Mount installation distributors only on the designated mounting surface.
Use one mounting point for each corner of the housing.
The installation distributor must always be easily accessible for visual inspections and maintenance work after mounting, including during operation.
Do not expose installation distributors to direct sunlight. This can lead to an unauthorized increase in temperature as well as premature aging of the components and the housing.

Cable fastening for the connection cables
On the side of the aluminum mounting frame there are rectangular punched holes (feedthroughs). The cables can be secured with cable ties here to protect the plugs of the outputs from any kinks.
How should commissioning be carried out?
Installation distributors used purely to distribute energy and data generally do not require commissioning. The distributor is fully functional once it has been mounted and installed correctly. A reset, e.g. of the RCCB or MCB may be necessary.
Comply with the necessary EMC guidelines during installation and commissioning.
The manuals required for commissioning and configuration of the measuring device can be found on the manufacturer's website.