COMMUNICATION AREAS
(LOCALLY SWITCHED)
Pluggable from the power supply to the luminaire
OUR FAST, SAFE AND FLEXIBLE CABLING
Lighting installation in buildings according to our motto: quick, safe, and flexible. Our gesis® CLASSIC system enables easy and error-free assembly. It allows a free choice of connection technology for the luminaires: from a connection cable pre-assembled by the luminaire manufacturer with gesis® CLASSIC to a traditional device connector (snap-in) and through to a flexible adapter. In confined spaces you can switch to the smaller gesis® MINI system. The switch modules are also available for the pluggable integration of switches or buttons for local operation.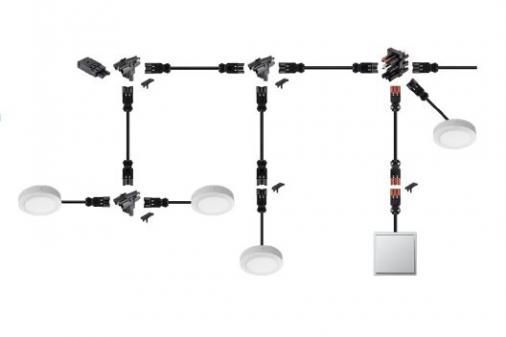 EXPLOIT THE STRENGTHS OF PLUGGABLE LIGHTING CABLING:
Safe
The directly pluggable luminaires do not have to be opened for electrification. This means that the industrial manufacturing standard can also be maintained on-site.
Installed quickly
The installation can be carried out in an entirely pluggable manner. This prevents any laborious cutting, baring, stripping, or clamping of the cables. The installation process is quick, easy and error-free.
Flexible
Comprehensive pluggable supply to premises means that changes or extensions can be realized at any time without any effort.