July 2023
Press Information
ANNIVERSARY CELEBRATION AT WIELAND ELECTRIC
The Wieland Electric GmbH and the Dutch Isolectra BV have been working closely together for 50 years. Around 30 employees of the partner company were guests in Bamberg last week for the anniversary event.
The Isolectra BV, based in Rotterdam, specialises in pluggable electrical installation for buildings, public spaces and horticulture. On 2 July 1973, Dr Friedrich Wieland and Mr Pieter de Joode signed a contract that marked the start of a close and intensive collaboration between the two companies.
"50 years of cooperation is a uniquely long period for such a collaboration. And the length and success of this collaboration is only possible because the two partners work so very closely together and put a lot of time and effort in maintaining that relationship.", says Arnoud Fial, CFO Isolectra BV, about the cooperation of the two companies.
The anniversary celebrations included workshops, factory tours and a sightseeing trip of the city. At the main event in the showroom of the Wieland Electric GmbH, symbolic gifts were exchanged and a reflection on the cooperation to date was made.
The cooperation with Isolectra combines Wieland's innovative solutions with the market knowledge of Dutch BV and drives growth and success in the field of electrical installation. The companies work closely together, especially in the building sector. Modular building is becoming increasingly popular, as it not only saves time, but also money and resources. This requires creative solutions from the field of pluggable electrical installation. But both companies also benefit from their close exchange when it comes to horticulture, as the cultivation of food in humid greenhouses poses a special challenge to the electrical installation. Last month, Wieland and Isolectra even appeared together as solution providers at Greentech in Amsterdam - one of the largest trade fairs for the horticulture sector. In the future, the two companies want to continue to work closely together and jointly drive progress in the field of electrical installation.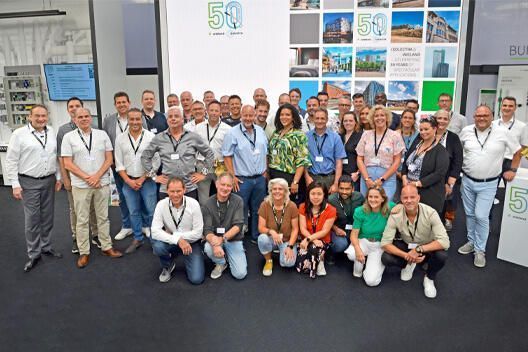 Joint group photo of Isolectra and Wieland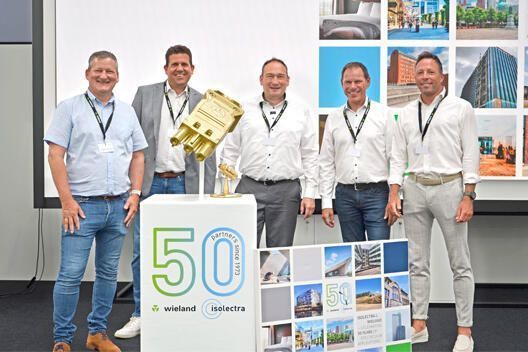 Mutual handing over of the symbolic gifts