FULL POWER FOR HEALTH
Wieland Electric supplies pluggable electrical installation system for new building of Royal Sussex County Hospital in England.
It is a milestone in the extensive renovation work at the Royal Sussex County Hospital in Brighton, England: the Louisa Martindale Building. The new facility not only provides world-class medical treatment and care, but also meets the highest standards of patient comfort and efficiency. Wieland Electric is responsible for the power supply and lighting of the eleven-story building. The company, headquartered in Bamberg, Franconia, supplied a modular cabling system for the major project, which enables rapid and safe installation thanks to its universal pluggability.
The Wieland Electric system, designed according to the plug & play principle, is industrially prefabricated to the highest possible degree and all products are delivered unit-tested. In this way, installation times can be significantly reduced and tight deadlines are met. The Wieland solution used for the Louisa-Martindale building is suitable for both power distribution and lighting control, including DALI and KNX. In addition, it is possible to adapt individual components for individual projects, which contributes to a high degree of flexibility. Thanks to the modularity and pluggable connections, changes to the system can also be made quickly and with minimal downtime, which is particularly important for hospitals.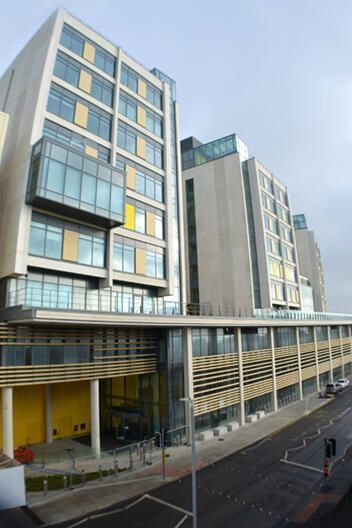 The eleven-story Louisa Martindale building at the Royal Sussex County Hospital in Brighton, England, was completed in spring 2023. The electrical infrastructure for power and lighting was provided by Wieland Electric. (Image: supplied by Richard Beard, Head of Communications (3Ts and Capital))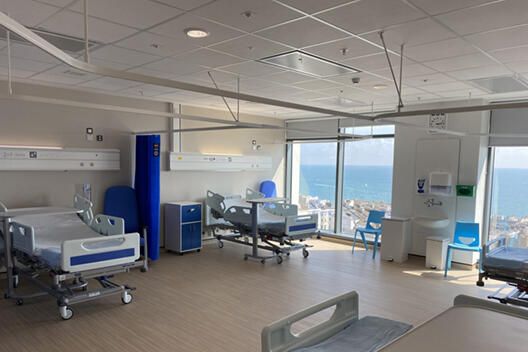 The new clinic building is characterized by a high level of patient comfort and is equipped with efficient technologies. Thanks to the pluggability of the Wieland system, the installation of the electrical infrastructure could be implemented quickly. (Image supplied by Richard Beard, Head of Communications (3Ts and Capital))