Gesis® FLEX now with DALI2 Gateway
The new KNX DALI Gateway expands the established gesis® FLEX series from Wieland Electric. It enables direct communication between the two, respectively interoperable and market-known, systems KNX and DALI 2. On both sides it therefore communicates with devices of other manufacturers certified in these systems.

In terms of functionality, the device covers almost the entire spectrum of lighting control. It can be used both for simple office applications, where the simple grouping and regrouping of connected luminaires is especially important in open office spaces, and for more complex lighting scenarios with the requirements of RGBW and Tunable White. Scenes and time controls, as well as operating hours monitoring, round out the device's extensive parameter set.
As with the entire device series, attention was paid to simple handling and easy implementation of the requirements of the construction process.

The device is mounted decentrally, i.e. without an additional housing. All electrical connections are designed to be pluggable, thus ensuring the fastest, simplest and safest installation method available on the market for a completely pluggable electrical installation. The manual operation already works without prior KNX integration, therefore the basic function of the installation can be tested immediately after mounting.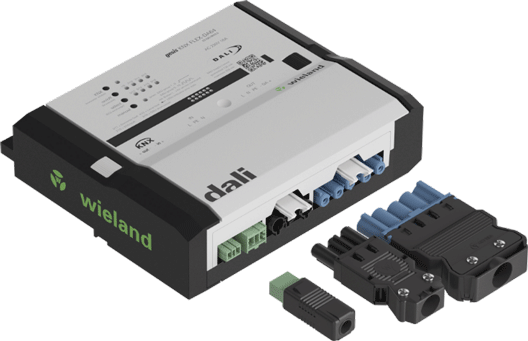 Gesis® FLEX now with DALI2 Gateway