HUB FOR DIGITAL EDUCATION
The gesis® service pole from Wieland Electric supplies digital classrooms dece ntrally with energy and data
Digital transformation has picked up speed in the education sector in recent years. Schools and educational institutions face the challenge of expanding their digital capacities. At the same time, it is important to meet the increasing demands on the energy efficiency of rooms and buildings. Whether it's a smartboard, fast Internet, a networked classroom or efficient lighting control - electrical installation plays an important role in improving the infrastructure for digital teaching and smart room automation. The Franconian technology company Wieland Electric knows how this can be accommodated quickly, professionally and with sufficient space for future requirements.
"With our gesis® service pole we have an intelligent electrical installation solution for digital classrooms ready. The column acts as a hub here, supplying power and data to whiteboards, projectors, power sockets, lights, blinds and media interfaces. In contrast to distribution from the equipment room, the decentralized installation makes the pipe routes considerably shorter. This not only saves material, but also time and money," explains Jens Romberg, who is Project Manager North-Germany in the Installation & Infrastructure Building division at Wieland Electric. He also knows how strongly the digital transformation is currently being driven forward in the education sector: "The city of Hamburg, for example, recently released funding for the digitization of schools again. Of course, this includes investing in a future-proof electrical infrastructure."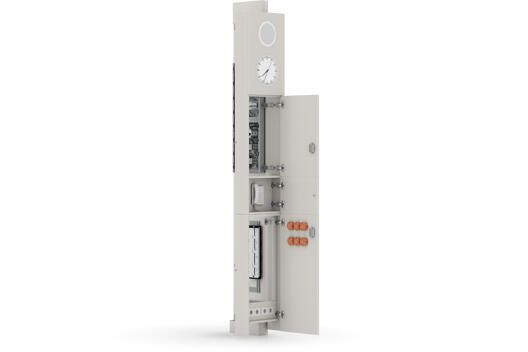 The gesis® service pole from Wieland Electric makes it possible to safely and professionally accommodate the electrical installation required for digitalization and smart room automation in the classroom.
Quick and easy installation
A major advantage of the Wieland installation column, which is suitable for both existing and new buildings, is its high degree of prefabrication: the column is delivered configured, tested and, if desired, with programmed room automation. On site, thanks to the gesis® connector system, it is easily and quickly mounted according to the plug & play principle, connected to the existing installation and put into operation. This ensures smooth, time-saving processes, which in turn reduces the workload on electrical installation company personnel.
Thanks to the large installation space as well as a distribution panel that offers space for up to 126 PD depending on the variant, there is sufficient installation space for future adaptations and expansions. The design, in turn, can be customized, both in terms of dimensioning and equipment with fronts and doors as well as electrical and electronic installations. In addition, Wieland Electric has also considered the topic of safety: Through different user levels - one freely accessible, one lockable for teachers, and a separate level for the specialist – the gesis® service pole offers protection against manipulation and secures access for the various users.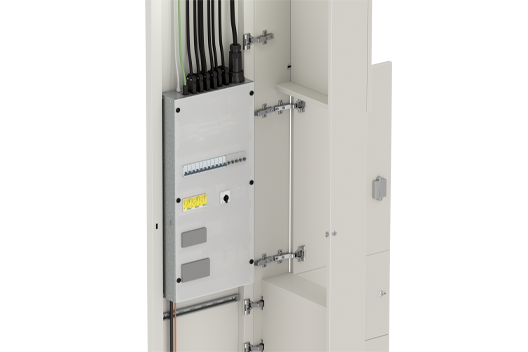 Decentralized installation in the classroom significantly shortens wiring distances, saving materials, time and money.