READY FOR THE FUTURE OF MODULAR CONSTRUCTION
AT BAU 2023, WIELAND ELECTRIC WILL SHOW THE DIVERSE POTENTIAL OF PREFABRICATED, PLUGGABLE ELECTRICAL INSTALLATION FOR ALL MODULAR DESIGNS
Premiere for the traditional company Wieland Electric: For the first time in its company history, the world market leader in the field of pluggable electrical installation for building services will present itself at the BAU trade fair in Munich. The reason for this is obvious: Prefabricated systems for the electrical infrastructure, as optimized by the technology company for decades for buildings of all kinds, also play out their advantages in modular construction. Whether planning reliability, flexibility or rapid and safe assembly - Wieland Electric will be demonstrating the concrete potential of pluggable electrical installation for the prefab sector from April 17 to 22 at Stand 109 in Hall C2 at the Munich exhibition center.
Modular electrical installation for modular construction
Rising costs, time pressure and a shortage of skilled workers coupled with a growing need for affordable housing - modular construction represents a flexible, low-cost and sustainable answer to the high demands of the construction industry in the 21st century. The aim is to avoid time-consuming activities both in factory production and on the construction site. For the electrical installation, this is achieved by using industrially prefabricated and pluggable solutions such as thoseprovided byWieland Electric with its GST and RST systems . They offer the advantage of speedy, error-free and flexible installation with a clear, comprehensible structure, and they contribute to efficient project processes thanks to their high degree of prefabrication .By integrating Wieland's electrotechnical infrastructure, it will now be possible for manufacturers of modular buildings tosignificantly increase the targeted degree of prefabrication and optimize their own manufacturing process.
Special solution for wet construction
Whether office buildings, hotels, schools or residential buildings - the installation solutions from Wieland Electric are suitable for many types of buildings and play to their strengths in all modular construction types, from modular construction to container construction to prefabricated residential buildings. As Wieland Electric will illustrate at BAU 2023, the systems and components are suitable for both dry and wet construction. A special feature here is the ready-to-plug-in electrical installation in concrete. Up to now, it was only possible to draw lines into previously cast-in installation pipes in a downstream work step. Additional junction boxes provided the electrical branches, which later had to be wired and resealed in the conventional manner. With the RST system, Wieland Electric now makes it possible to lay the electrical installation directly in the concrete and connect it later simply and without errors using plug & play. This is possible thanks to the high IP protection, robustness and high quality of the components, which contribute to high functional reliability. Wieland Electric has proven the suitability for this application with specific tests.
Reduction of on-site machining
Supporting smooth construction processes with the help of industrially prefabricated system components and customized distribution boxes will also play an important role at the Wieland stand. This concerns the supply of socket outlets, blind drives, fans and heaters as well as the wiring of switches and lights in module skeleton construction, module cell construction and container construction. Here, Wieland Electric's GST and RST connector systems ensure that installation can be carried out quickly, easily and safely and that on-site processing is reduced. Depending on requirements, the electrical infrastructure can be pre-installed in the component plant or can be prepared there to such an extent that the system components simply need to be plugged together on site.
Defying the shortage of skilled workers
In addition to the use of prefabricated, pluggable components, planning, logistical and organizational aspects also contribute to the efficient running of construction projects. This is exactly what Wieland Electric takes into account as part of a well thought-out service program, which will also be presented at the trade fair. In the area of building and modular architecture, consulting services are offered around the infrastructure topology and installation paths, which are individually tailored to the customer's construction process. Wieland experts also provide advice on cabling concepts, the right choice of equipment and the generation of material lists and have effective planning tools at their disposal.
Wieland Electric provides further support in labeling, commissioning, packaging and logistics. If desired, a custom-fit assembly can be made here according to room, installation section or level. Time-consuming 'searching and finding' on the construction site and mountains of waste to be disposed of are thus a thing of the past. In addition, installation times can be reduced, employees can be relieved through standardized labeling, and personnel bottlenecks can be avoided.
Wieland systems in use
The fact that the high degree of prefabrication, industrial module production and simple final assembly of Wieland Electric's systems result in maximum execution quality has been proven in the building sector for decades. With the continuing trend of modular, serial construction, the range of applications for plug & play solutions, which are already being used in various construction projects, is now expanding. For example, the gesis Classic plug-in system is used in container houses from Wolf System, the specialist for halls, stables, containers and houses, and contributes here to a fast, simple and safe assembly of the electrical installation. Just like the container buildings, the pluggable, decentralized product solutions are flexibly expandable so that the plant can simply grow along with it.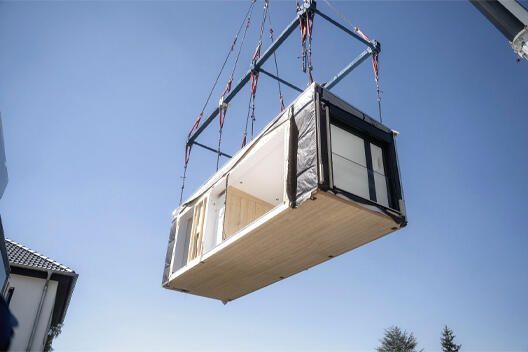 At BAU 2023, Wieland Electric will demonstrate the potential of pluggable electrical installation for all forms of modular construction. (Image: Bewegtblick GmbH)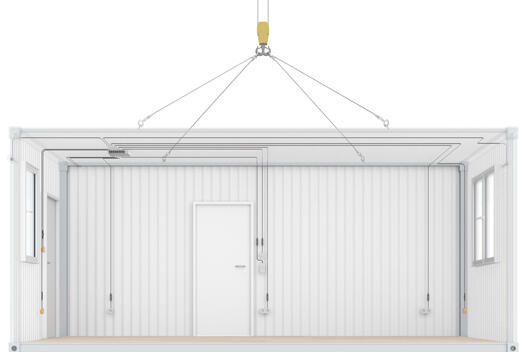 Planning reliability, flexibility and fast and safe installation thanks to Wieland Electric.