SAFE AND ECONOMICAL PLANNING OF ELECTRICAL SYSTEMS
WIELAND ELECTRIC'S PODIS 5G6 ENERGY BUS SUPPORTS EASY ACCEPTANCE OF ELECTRICAL SYSTEMS THANKS TO UL SYSTEM APPROVAL
Energy bus systems show their strengths wherever systems have to be supplied with energy over long distances. Whether airports, warehouses or distribution centers - when projects are designed internationally, the planning and, above all, the acceptance of the electrical systems often pose a major challenge for project planners and designers. The effort involved can be greatly simplified if the components used have the appropriate approvals. This is exactly what Wieland Electric can offer in the context of its podis 5G6 energy bus system, which recently received UL system approval. This means that exporting companies in particular benefit from reduced testing effort and save time in the approval of their electrical systems.
Thanks to the certification of the podis 5G6 power bus system according to UL 2875, Wieland Electric now has a fully and coherently documented installation system that makes it much easier to approve electrical installations on site, especially in North America. The inspector has access to the complete approval documentation online. This not only reduces the inspection effort and time required for approval, but also minimizes the risk of rework or new installations. Furthermore, project-specific calculations can be easily performed in the simulation software podis Plan and attached to the documents as wiring diagrams and calculation tables. In this way, the project duration can be better planned and risks regarding the project budget are reduced. The UL1277 TC-ER approval also allows the flat cable to be laid without the need for costly cable protection devices such as tubes or sheaths, thus saving material and space and enabling quicker installation.
With the podis energy bus system, Wieland Electric offers an intelligent installation solution that provides the advantages of a coordinated interplay of connection modules with penetration contacts and the associated flat cable. Since taps can be set at any time and in any position, the electrical installation can be adapted to changing requirements easily, flexibly and quickly. The application area of the podis system ranges from intralogistics and conveyor technology to mechanical and plant engineering and production lines in the food and automotive industries.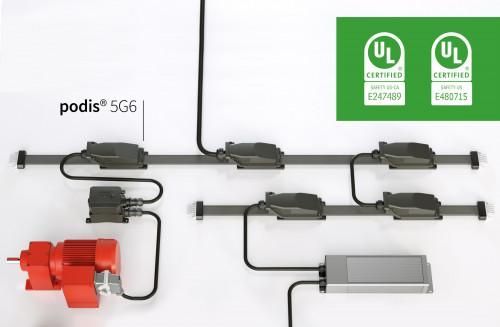 PRESS CONTACT
WIELAND ELECTRIC GMBH
Marketing Communication
Alexander Viertmann
Communications Manager
Brennerstraße 10 – 14
96052 Bamberg · Germany

E-Mail: communications@wieland-electric.com
Phone: +49 (951) 9324 - 316