SUSTAINABLE AND SMART ELECTRICAL INSTALLATION WITH PLUG & PLAY
THREE QUESTIONS TO DIPL.-ING. (FH) THOMAS NIEBORG, PRODUCT INFORMATION MANAGER AT WIELAND ELECTRIC
Mr. Nieborg, what is meant by Plug & Play in the field of electrical installation?
Basically, Plug & Play is about eliminating time-consuming dismantling, stripping and wiring and avoiding errors by using industrially prefabricated and tested components. At least, this is how we at Wieland Electric understand this principle and thus create real added value. During installation, the pluggable cables, distribution blocks and device connections are only plugged in. Error-free mating is also ensured by mechanical coding, so that mismating is virtually impossible. The simple and ingenious plug & play principle makes installation on the construction site very easy. In addition, structured and planned cabling is made possible.
What other advantages do pluggable systems have and where are they used?
A major advantage of plug & play solutions is their flexibility. Pluggability creates scope for change - this is particularly true if the components are designed according to the modular system and have standardized interfaces. This makes it easy to tap energy at any time and from anywhere. In addition to that, the electrical installation in buildings can be changed at will with universal pluggable solutions. Even tight installation conditions are no obstacle, because the systems are designed to be very compact and thus efficient and space-saving. The reusability of the components avoids unnecessary waste and conserves resources and materials. This makes plug & play systems future-proof and sustainable.
Centralized or decentralized - what do you think the installation system of the future will look like?
The installation system of the future must be both smart and sustainable. Unlike conventional installation, where all components are wired in a star topology to the main distribution board, we at Wieland Electric rely on clear structures as part of a decentralized installation. In doing so, we further develop the basic idea of bus systems for building automation as an energy bus system. The infrastructure cabling can be implemented here with 5- to 7-pole flat cables with different wire cross sections. Our building automation components are installed close to the load in raised floors or suspended ceilings in each room, with our gesis® connection cables providing the link to the consumers. The decentralized components can be supplied from the main distribution with little effort via our gesis® NRG flat cable. In addition to a high degree of flexibility, the near-load, decentralized installation also scores points for safety and resource efficiency, since both the fire load and the voltage drop as well as the copper requirements are reduced.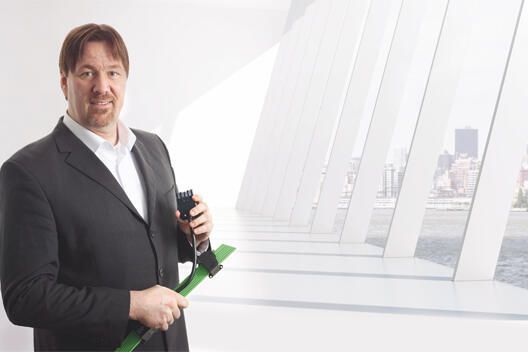 Pluggability is the key: Thomas Nieborg, Product Information Manager at Wieland Electric, knows how plug & play solutions can be used to implement electrical installation in buildings in a flexible, well-structured and resource-saving way. (Image: Wieland Electric)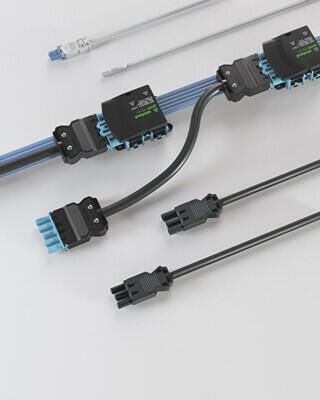 Pluggable systems from Wieland Electric are characterized by uncomplicated assembly and offer a high level of safety due to their industrially prefabricated and tested quality.(Image: Wieland Electric)