WIELAND ELECTRIC MEETS BROSE BAMBERG
TRADITIONAL BAMBERG COMPANY ENTERS INTO PARTNERSHIP WITH BAMBERG SPORTS GREAT.
On Sunday, October 2, 2022, the moment had come. The new partnership between Wieland Electric GmbH and Brose Bamberg was officially launched with the ceremonial inauguration of the new Wieland SportsLounge. During the opening game against Alba Berlin, Managing Director Dr. - Ing, Börne Rensing and Division Manager Marketing Dagmar Dittmann opened the SportsLounge together with family, business partners and also some Wieland employees.
"Wieland meets Brose Bamberg! As a Bamberg-based company and world market leader in pluggable electrical connection technology, we are particularly pleased to be able to play a part in Brose Bamberg's sporting success. Team Brose Bamberg has a passionate fan base and, like us, is ambitious and goal-oriented, internationally active but at the same time regionally rooted. We are therefore very much looking forward to talking to the fans and the crowd at the Wieland Sportslounge in the coming years - Dagmar Dittmann."
In addition, Anika Lunz, an employee in Human Resources, took on the Lotto Bayern halftime challenge and, by hitting two out of three baskets, earned €400 for the homeless charity. Wieland Electric took this as an opportunity to also donate €600 to Freak City e.V. to specifically support sports projects in the Bamberg region.
From now on, the SportsLounge will be open at every home game to welcome guests with delicious food, refreshing drinks and the opportunity to network.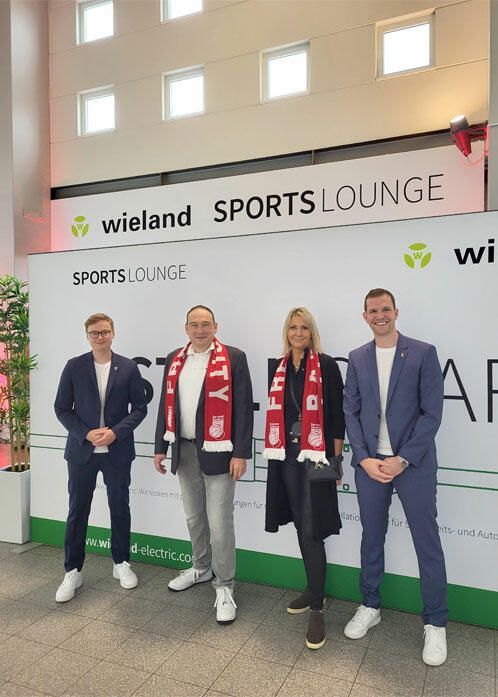 (vlnr: Fabian Ahlmer, Börne Rensing, Dagmar Dittmann, Philipp Höhne)