DECENTRALIZED ROOM AUTOMATION (KNX)
Added value created by modularity
MORE SPACE FOR WHAT'S IMPORTANT
Maximum flexibility and efficiency with minimum space requirement – the demands on room automation are high these days. Our answer to this is our modular KNX system gesis® FLEX. The decentralized components can be installed directly on-site and without any additional housing. This saves installation space in the utility rooms and in the local sub-distribution boards. It also massively reduces the required cable lengths to the consumers. Not only does this save on cable material, the need for cable routing systems is also significantly reduced. The modular setup means that the system can be adapted to changed requirements at any time. Ideally, it is supplied via a 7-pole gesis® NRG flat cable which provides both three-phase current and the KNX network. In addition, the use of a 7-pole flat cable to supply the modules results in a clear installation structure.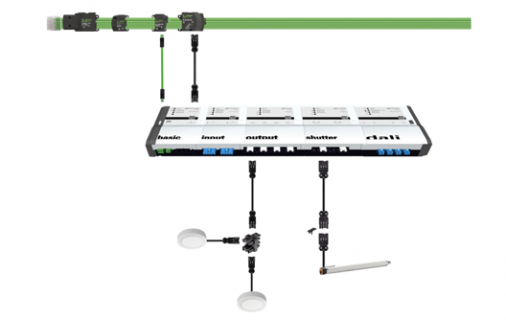 your advantages
More space and fewer resources
Save space in utility rooms and cable trays. With room automation components installed decentrally, the space required for sub-distributors can be reduced by up to 50%. The supply cables are limited to the stretch between the actuator and the consumer
Transparent installation
Profit from clear interfaces between the various assembly sections – thanks to the instantly available manual control level of the gesis® FLEX modules.
Modularity creates flexibility
Thanks to the modular design of the gesis® FLEX system, functions that are required locally can be plugged together on-site. In the event of a change of use, the installation can be adapted to the new requirements at any time.