HELLO SHOP
Solutions for pluggable electrical installations in shopfitting.
REQUIREMENTS
The number of electrical consumers in retail spaces is constantly increasing, which poses a challenge for electrical installations. Our pluggable, flexible system approach can solve many of these challenges in practice. Short installation times, manageable costs, and flexible adaptability are a feature of our solutions.
PLUG & PLAY IN RETAIL SPACES
Take a look at our smart solutions with plug connector systems used for lighting and infrastructure cabling all the way to the shelf socket.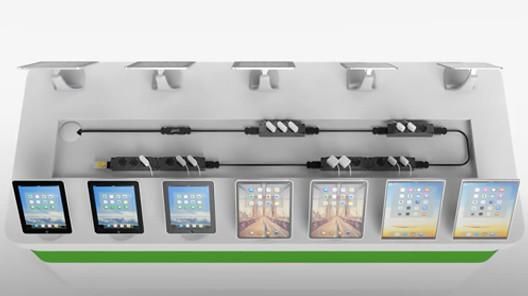 Which retail segments is the Wieland system suitable for?
In principle, Wieland's integrated system can be used in all shop installations. Examples include home furnishing stores, specialist retailers, food and non-food shops, and many other retail spaces.
Which applications is the Wieland system suitable for?
Wieland's solutions range from basic energy distribution infrastructure to shelf lighting.
Which Wieland products are used in shop electrical installations?
What level of expertise is required to install the products?
The installation is carried out by qualified electricians and electrotechnically instructed persons.
Is installation with Wieland components guaranteed to comply with standards?
Yes, this is one of the advantages of Wieland's plug&play system. Detailed explanations of the installation specifications can be found in our white paper "Compliant electrical installation for retail spaces".
What standards and specifications are relevant for Wieland's installation system with regard to fixed installations?
The Wieland system is approved according to IEC 61535 and installed in compliance with VDE0100.
How are LED displays and light frames powered?
Wieland has collaborated with Display & Design Schulz to develop a new wall-rail system that makes on-site replacement at the point of sale extremely easy and tool-free.
Is it possible to link together multiple sockets with the gesis® CLASSIC system?
Yes, sockets can be linked together using the continuous conductor and contact system. These configurations have been tested and confirmed by the Wieland laboratory.
How are the gondolas in the shelving system powered?
The gesis® modular system allows sockets to be integrated easily into the shelving system.
Can pop-up areas be realized flexibly?
Thanks to universally pluggable products, pop-up areas can be electrified easily and quickly.
Is there an overvoltage protection module for the device sockets?
Yes, the additional component can be plugged into the system. In the event of a fault, an acoustic signal announces that it has been triggered.
How does the Wieland system support the retail sector especially?
Layout changes and optimizations are the rule, particularly in retail. Wieland's prefabricated and pluggable components can be reused here in the new structures quickly and easily.