FULLY CHARGED TOWARDS THE FUTURE - WIELAND ELECTRIC PRESENTS A SOLUTION FOR CHARGING ELECTRIC VEHICLES USING THE CLAIM "THE INNOVATION BEHIND"
With the podis® flat cable system, Wieland Electric offers an innovative and decentralized solution for supplying energy to charging stations for electric cars. With the decentralized supply technology, wallboxes can be supplied with energy easily and quickly, and with significantly less effort and material consumption compared to a conventional installation.
Decentralization as the key to the supply
The podis® energy bus system is ideal for distributing power to charging stations. With this decentralized energy distribution system, a large number of charging stations can be connected with just one supply line. This saves time during installation, reduces the amount of material required and significantly reduces the dimensions of the distribution cabinet. The connection components for the feed-in or the energy tap-off can be placed at any point of the power bus. The fast and flexible positioning of the connection modules is made possible with the piercing contacts of the podis® components. As a result, conventional time-consumers such as cutting, stripping and terminating become completely obsolete.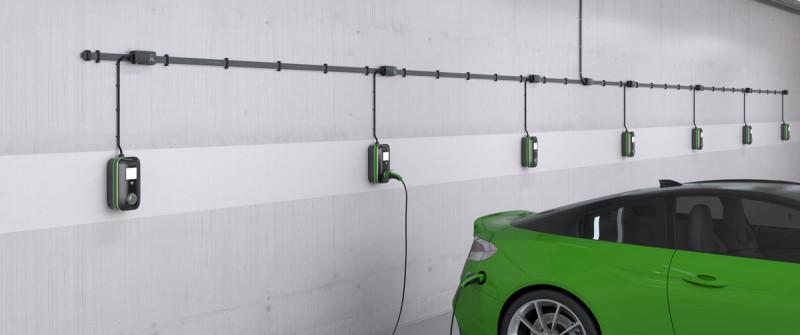 Flexibly supplied
The feed into the energy bus can be set completely flexibly and freely - even centrally, which enables an ideal balance of the load on the energy bus. As a result, the number of charging stations fed can be increased on a line section without overloading the flat cable. The tap-off modules for the power supply can be placed anywhere at any time. This also makes extensions to the installation possible, with ease and without great expense. The special feature is that these tap-off modules are available both for fixed installation and in the pluggable version. This brings decisive advantages when a charging station has to be replaced
Technical features
The podis® cable is a 5-core flat cable system with a 16mm2 cable cross-section. Connection cross-sections are possible with up to 16mm2 in the center feed and with up to 70mm2 in the end feed. A current load according to IEC is possible with up to 100A, free in air. Dielectric strength is up to 690 V according to IEC and up to 600 V according to NEC.

PRESS CONTACT
WIELAND ELECTRIC GMBH
Marketing Communication
Alexander Viertmann
Communications Manager
Brennerstraße 10 – 14
96052 Bamberg · Germany

E-Mail: communications@wieland-electric.com
Phone: +49 (951) 9324 - 316