PERMANENT FURTHER DEVELOPMENT: ULTRA-SMALL CONNECTOR FOR LIGHTING AND INDUSTRIAL APPLICATIONS EXPANDED TO INCLUDE DISTRIBUTORS
With the RST® Micro, Wieland Electric presents a miniature connector that, with its diameter of less than 15 mm, meets the highest requirements for design and flexibility. The plug is in demand wherever technology is becoming smaller and smaller, and electrical connections must therefore also become smaller and smaller. Now the system also includes a distributor option

Miniature connector for extra-low-voltage and network applications
Bamberg-based Wieland Electric presents the RST® Micro, a miniature connector designed specifically for low-voltage applications. The 2 to 3 pole connector with a diameter of less than 15 mm is optimized for the interface between voltage or current sources and LED modules. In addition, it is ideally suited for the industrial environment. Thanks to its rated values, network applications are no problem either. Four mechanically and color-coded plug connections ensure safe separation of different applications. Particularly small and unobtrusive, easy to operate without any disruptive locking geometries, protected against any strain, and sealed, the RST Micro is a connector which, thanks to its compact design and functionality, is unique on the market.
Extension by manifold
The latest addition to the modular RST® system are the distribution blocks for the RST® Micro. Available in 1 E/ 2 A and 1 E/ 3 A (input/output) for 2 & 3 -pole. New manufacturing technologies have made it possible to reduce the size to a minimum. The distributors are available for all common codings and the internal wiring offers a serial or a parallel option. The addition of the distributors rounds off the system to a certain extent, as the distributors occupy a central position in the electrical infrastructure of the RST® system. Thus, they serve both for energy and signal distribution.
Pluggable installation saves time and money
Just like the larger members of the RST® product family, the RST® Micro miniature connector makes installation particularly easy, fast and safe. The continuous pluggable RST system - from the distributor to the electrical device - consists of factory-assembled and tested components in the guaranteed always the same design quality. This makes project and process flows easier to calculate. Assembly times can be reduced by up to 70 percent compared to conventional installation. Total costs are reduced by 30 percent. The flexible plug-in system also helps with conversions or extensions, as installation is quickly and easily adapted. Defective devices are replaced in no time at all.
Technical data
Rated voltage: ~50/-120V; 250V; 250/400V
Rated current: 8A
Protection rating: IP66/68/69 + optional water-stop feature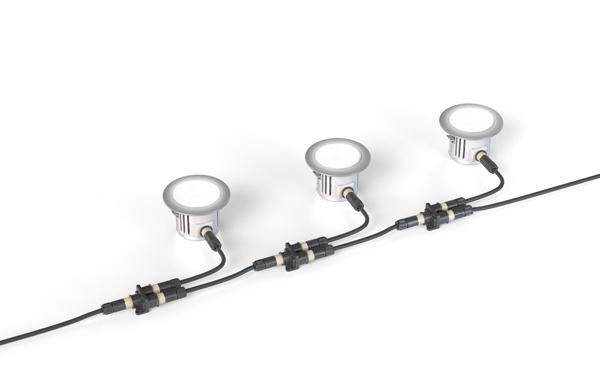 PRESS CONTACT
WIELAND ELECTRIC GMBH
Marketing Communication
Alexander Viertmann
Communications Manager
Brennerstraße 10 – 14
96052 Bamberg · Germany

E-Mail: communications@wieland-electric.com
Phone: +49 (951) 9324 - 316