ROBUST SWITCH FOR USE IN THE FIELD
THE NEW IP67 SWITCH FROM WIELAND ELECTRIC ENABLES RELIABLE OPERATION EVEN UNDER THE MOST ADVERSE ENVIRONMENTAL CONDITIONS
Modular and flexible machine concepts are growing rapidly in importance. In the course of this development, automation components are increasingly being connected in a decentralized manner. This also applies to IP switches, which are no longer only mounted in the control cabinet, but also directly on the machine. In order to ensure reliable operation of the network components under these circumstances, the devices must meet high requirements. After all, they are directly exposed to potentially harmful influences such as dust, moisture and electromagnetic radiation. Wieland Electric offers a suitable solution for this with its new IP67 switch.

The wienet IP-SWITCH UMS 8-W-M12 is equipped with a robust metal housing and can therefore be used under the most adverse environmental conditions. Splash water, contamination and high temperatures up to 75° Celsius are handles without any problems. In addition, the switch complies with the EN 50155 standard, making it suitable for the harsh requirements of railroad applications. Fluctuations and interruptions in the power supply are tolerated, as are vibrations, shocks and high relative humidity. The compact device is easy to maintain and features a long service life and high electromagnetic compatibility (EMC).

The plug & play feature of the new IP67 switch from Wieland Electric enables fast commissioning even without programming experience. Sensors and actuators can be connected robustly and reliably via eight M12 Fast Ethernet ports, which contributes to low failure rates. Its compatibility in conjunction with programmable logic controllers (PLCs) within the IEC 61131-2 framework also ensures reliable network operation with the lowest probability of failure.

Optimally suited for modular systems: The robust and compact IP67 switch from Wieland Electric ensures reliable operation even in harsh environmental conditions.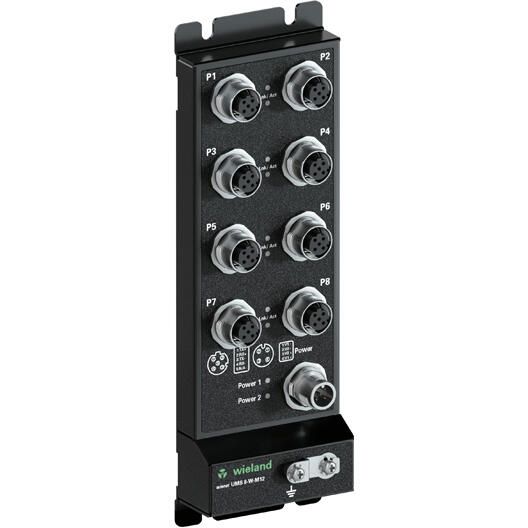 IP-SWITCH WIENET UMS 8-W-M12