SAFE PLANNING THROUGH SIMULATION!
LIGHTING SIMULATION FOR WIND TURBINES INCREASES PLANNING RELIABILITY, ECONOMIC EFFICIENCY AND COMPLIANCE OF THE INSTALLATION WITH STANDARDS
When it comes to creating a safe environment for maintenance personnel in wind turbines, reliable lighting is essential. If the associated requirements and costs are already taken into account in the planning phase, this has a positive effect on the cost-effectiveness and standards compliance of the lighting solution. Wieland Electric will be demonstrating how this can be achieved at the WindEnergy trade fair in Hamburg from September 27 to 30, 2022.
At least 50 lux for work lighting and at least 10 lux for emergency lighting along the escape route - these specifications apply in wind turbines for all areas where maintenance personnel are present. To ensure that these and other normative requirements are met, the illumination of the tower can be simulated, precisely designed and verified in advance.
"As part of our lighting simulation, we make it possible to simulate the real conditions of the lighting installation with the inclusion of 3D data of the tower. This means that our experienced experts position the intended luminaires in the planning tool in an optimal manner depending on the shadow cast that has been determined. In this way, not only can the exact number of lights required be ordered, but the infrastructure cabling can also be planned and ordered accordingly," explains Stefan Kadur, Market Manager Wind Energy at Wieland Electric.
In addition to a high level of planning reliability, the lighting simulation also contributes to more efficient processes. This is because the respective lighting levels can be determined via the simulation and verified via a calculation. This calculation of the luminaire positions according to the specifications of DIN EN 50308:2005 ensures that the verification and the measurement protocol for the normative acceptance on site in the tower can be carried out more quickly. In addition, manufacturers and operators benefit from documentation for the acceptance of the emergency lighting application.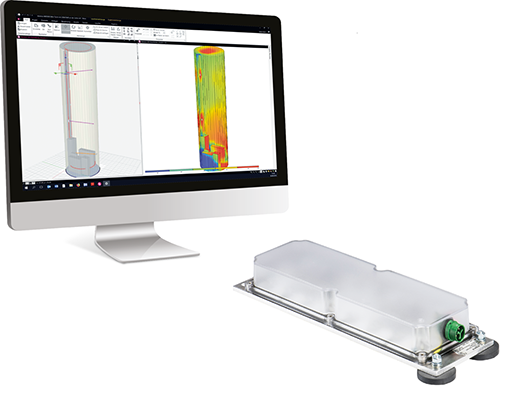 Realistic, foresighted and result-oriented: With the lighting simulation, Wieland Electric makes it possible to determine the optimal illumination of the tower in advance, which contributes to a high degree of planning reliability.