DECENTRALIZED ENERGY DISTRIBUTION
The next generation of power distribution technology for factory automation, logistics centers, and airport baggage handling systems.
HIGH PERFORMANCE – EASY AND FAST ERROR FREE INSTALLATION
Smart factory and conveyor automation solutions require innovative installation systems, especially for power distribution. The machines of the future will have a more integrated design that will require an adaptable, decentralized power network. With the podis® energy bus system, we offer you an integrated solution for the distribution of energy in conveying/logistics centers and industrial plants. It includes supply and distribution modules, maintenance switches, fixed and pluggable power feeds, pre-assembled cable harnesses, and a comprehensive range of accessories.
CENTRALIZED VERSUS DECENTRALIZED ELECTRICAL INSTALLATION
CENTRALIZED installation
– current practice
Centralized power and control electrical installation has been state of the art for many decades. It has served its purpose well in industrial automation. Its features include control cabinets filled with controllers, power distribution components, circuit breakers and motor starters or frequency inverters with extensive use of electrical conduit and point to point wiring between the control cabinets, power distribution panels, and the individual drives as well as the sensors in the system or the machine. In large and complex systems, this results in miles of metal conduit and junction boxes requiring time-consuming wire termination and installation. When system expansion or additional functionality is required, this creates the need for more control cabinet volume and even more conduit in an already crowded electrical environment.
Features of central installation:
Time-consuming planning and design
Large control cabinets
Long. multiple conduit runs
Many hand wired junction boxes
Extensive commissioning and trouble shooting time
Costly expansions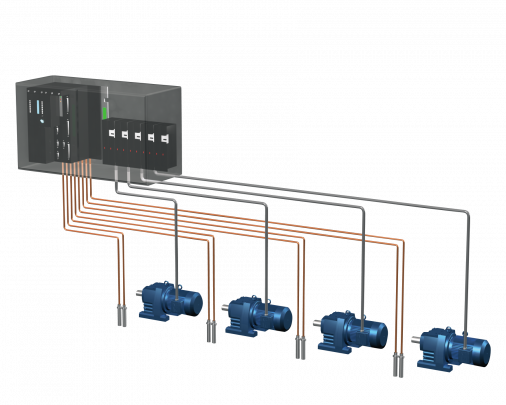 DECENTRALIZED INSTALLATION - THE SMART SOLUTION
The backbone of the podis® system includes a flexible three phase power distribution bus whichis approved for use in exposed locations (TC-ER rated). It installs quickly and error free with connection modules and integrated cable assemblies to motor starters or other energy consumers in typical factory or logistics environments. Wiring time, commissioning and electrical layout time is drastically reduced.
Advantages of decentralization:
Simple project planning and design
Short installation times
Fast commissioning
Easy retrofitting, modification and expansion
Easy plug and play technology
Low maintenance and servicing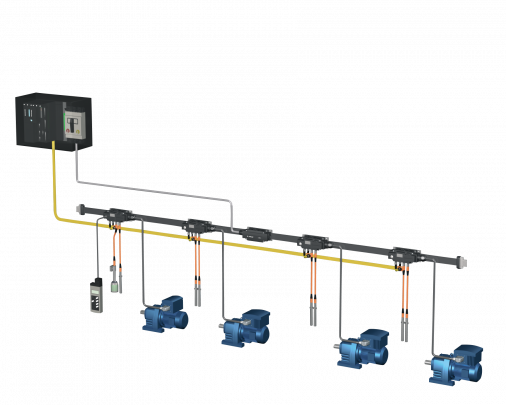 FLEXIBLE BUS SYSTEM
The podis® power bus is the innovative solution in decentralized power distribution. The system includes feeder and distributor modules, service switches, fixed and plug-in power branches, pre-assembled cable sets and a wide range of accessories.