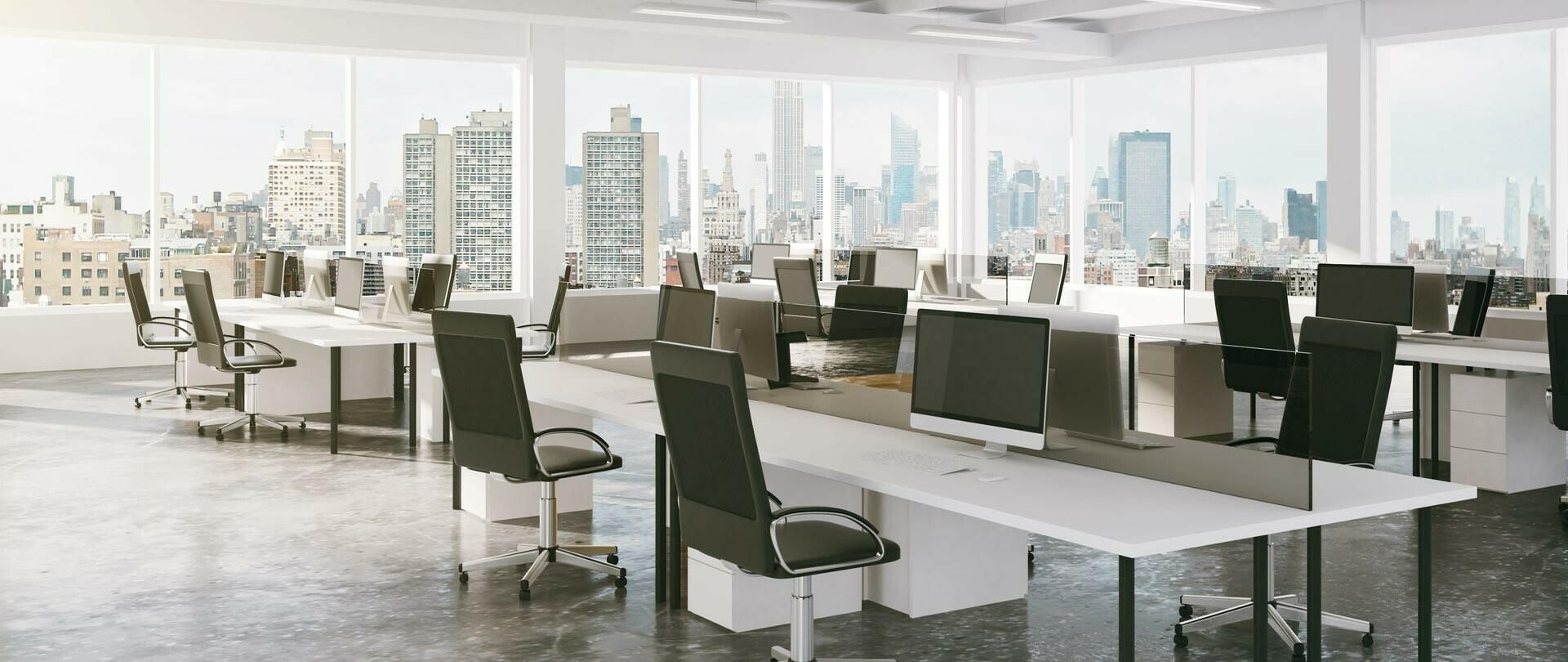 HELLO OFFICE
Solutions for pluggable building installation + decentralized room automation
REQUIREMENTS FOR A SMART OFFICE
Modern office space is characterized by a flexible office layout. As a rule, office space is repurposed every three to four years. For example, an office with group workstations is to be transformed into an office with meeting rooms and desk-sharing workstations within a very short time.
For this to succeed, the conversion must be quick and without major installation effort. With our installation connector system gesis®, we offer fast, simple and flexible installation with interfaces right up to the desk, ensuring a high level of user comfort. Thanks to the decentralized and pluggable installation, the planning and construction process is optimized, and the budget framework is also reliably adhered to. Our installation connector system has been a reliable part of the electrical installation of office buildings for many decades and will continue to be so in the future.
LIGHTING
Luminaires in functional buildings are often automated and controlled locally. Connection and placement of the necessary electronics follow certain installation philosophies. The conventional method of centralized installation of automation devices should be replaced by decentralized actuators due to the high installation effort and raw material usage. Simple switch actuators as well as more complex gateways (e.g. DALI Master) can be used. Due to the area-wide supply of the office areas with mains and DALI signal, changes & extensions can be realized without effort.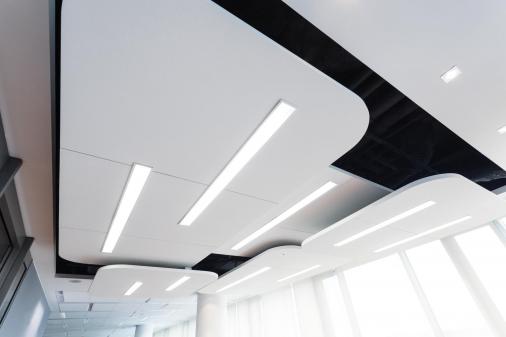 WORKPLACE SUPPLY
Even in modern work environments with laptops, power banks and centralized printer areas, power is still needed in the workplace to charge mobile devices. In modern, highly flexible office landscapes, this presents a particular challenge that can be solved smartly and elegantly within the office furniture with our cascadable multiple sockets. The desk is supplied via floor tanks, floor outlets, parapet ducts or from the ceiling – the energy is plugged in and distributed "inside" the desk without the need for tools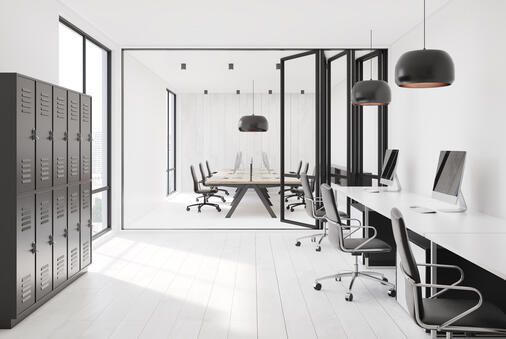 DECENTRALIZED ROOM AUTOMATION
Decentralized room automation is the keyword when it comes to efficient and space-saving installation of control solutions. The regulation of lighting, heating and sensor detection can be installed very effectively and with high cost and time savings via the decentralized and near-load installation of the automation components.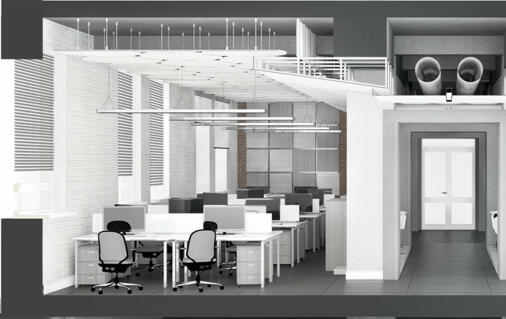 DECENTRALIZED BUILDING AUTOMATION
Sustainable building automation starts with a sustainable infrastructure. Decentralization is the keyword. Wieland therefore offers suitable solutions for infrastructure cabling. Our distribution boxes create the appropriate installation space and the interfaces for the smart installation.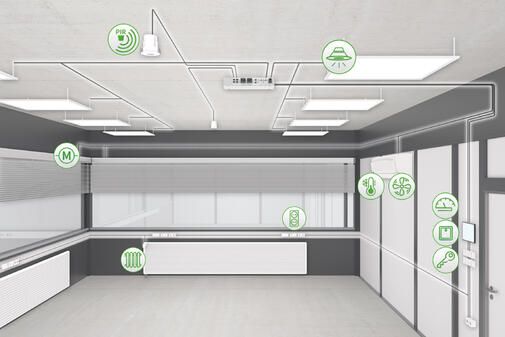 ADVANTAGES OF OUR OFFICE SOLUTIONS
COSTS REDUCED WITH DECENTRALIZED BUILDING AUTOMATION
With our gesis® installation system, we have revolutionized electrical installation. High-quality and durable components convince with 70% time and 30% cost savings! gesis® is designed in the style of a modular system: All product groups complement each other and enable a smart and economic electrical installation from distribution to the consumer.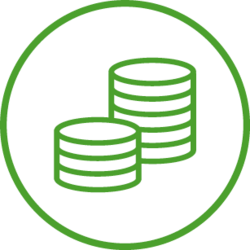 INSTALL SMART–
EXPLOIT POTENTIAL
Smart building automation sustainably reduces a building's energy requirements, so that investments in automation technology pay for themselves in just a few years. With our smart installation components, we take the basic idea of a bus system and make it a highly flexible system in combination with pluggability. A later change of use in the life cycle of the building can be easily implemented. Our decentralized + pluggable products contribute their full added value in speed and lasting economic efficiency especially in projects with a large number of repeating rooms, such as hospitals, hotels, or office and administrative buildings.
WE HAVE PROOF!
See for yourself how much faster a pluggable installation actually is compared to the traditional wiring system. In this case, we show the installation of a Wieland flat cable compared to conventional electrical cabling.
Contact us if you have any questions or would like to receive a free sample.

Here is the proof!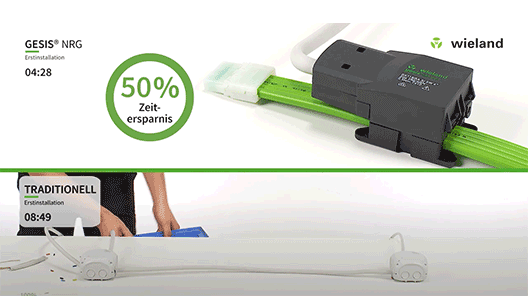 FUTURE-PROOF OFFICE REAL ESTATE
"The use of few other properties is under as much scrutiny during and after the pandemic as our office buildings. Filing cabinets, brochure racks and copiers have given way to better data technology and video conferencing thanks to paperless processes and hybrid working. It's good when room automation can follow the changing needs and thus enable new forms of work. With pluggable installation, Wieland has been providing the basis for flexible and future-proof electrical systems in and around your office property for decades."
Stephan Lauer
Speaker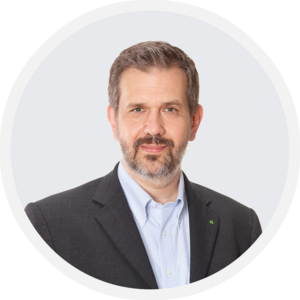 A DECENTRALIZED INSTALLATION SAVES COSTS AND MAKES YOUR BUILDING A BIT SAFER
"Rising material costs and raw material prices are clearly felt in many industries. A decentralized installation means less cabling effort. Thus, costs can be decreased by approx. 30% for cables compared to a conventional electrical installation. In addition, a reduction in the number of installation lines reduces the fire load in the installation levels, which also needs to be taken into account more and more"
Christian Merkel
Application Engineer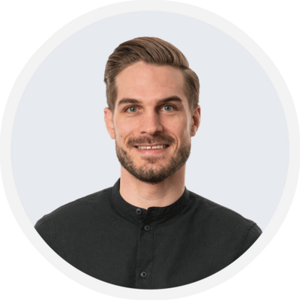 What are the advantages of a decentralized installation approach?
Our idea of a decentralized installation has two main advantages. A power supply with three-phase current up to just before the consumer saves up to 40% of line material and reduces line losses. Furthermore, the decentralized placement of room automation and I&C controllers also reduces the amount of cabling to sensors and consumers and also ensures a greatly reduced space requirement in distributions and equipment rooms.
What does the approval according to DIN EN (IEC) 61535 for the application in electrical installations mean?
The approval of our pluggable systems according to DIN EN (IEC) 61535 - "Installation connectors for permanent connection in fixed installations" allows the use of our pluggable systems in fixed installations. The cabling and especially the distribution of power and signals can thus be implemented flexibly and quickly. Important: Appropriate, interlocked plug connections can also be installed in inaccessible areas!
Where can the pluggable electrical installation be used?
In the low-voltage range for power and signal distribution. Pluggable electrical installation with installation connectors can replace conventional installation in almost all areas of fixed installation in the low-voltage range. Typical applications include: Lighting cabling, workplace supply, infrastructure cabling, smart building systems.
What options does pluggable electrical installation offer for highly flexible office landscapes (Flexible Office)?
Desk Sharing, Flexible Working and Co-Working... the office of the future must be adaptable to all of this. With our Consolidation Points we offer you decentralized distribution points to switch from fixed to pluggable installation. The consolidation points are available as energy-only or data-only distributors. There are also solutions that combine the distribution of power and data in one housing.
How can I integrate room automation solutions into the pluggable installation?
1) With our gesis® FLEX modules we offer directly pluggable solutions for all important functions of room automation (lighting, blinds, heating/cooling valve control, etc.). The collection of sensor values, switching and distribution of energy in the room is done decentrally via the corresponding modules, and thus with the least possible effort for cabling. The bus system we use is the worldwide standardized KNX system.

2)The integration of further functions (devices for controlling room automation, air conditioning, power supply units, decentralized fuses, IT infrastructure) and alternative BUS systems is possible via our distribution boxes: In a robust housing (e.g. made of galvanized sheet steel) we offer space for all common components, wire according to your requirements and deliver the distribution boxes with device connections from our gesis® and RST® product families to the construction site ready to plug in. Of course, other interfaces such as RJ45, etc. are also possible.
Is there a possibility that Wieland can support me in the planning of decentralized, pluggable solutions?
Our field staff, first level support and customer service will assist you at every stage of the project, from an initial rough concept with benefits argumentation to coordination of on-time delivery to the job site.

Contact us now!
Power and data distribution?
The distribution of power and signals is flexible and pluggable thanks to our flat cable system and the assembled cables. By means of our distribution boxes the pluggable decentralized energy, signal and data distribution can be carried out. After consultation with you, the exact number of interfaces will be integrated into the distribution boxes.
In which lengths are the assembled cables available?
Our standard lengths are 1 to 8 meters in meter increments. In addition, we manufacture special and excess lengths on request.